Created: 2023-09-27
Do you already know how you'll be celebrating New Year's this year? If you believe in the saying, "as on New Year's, so all year round", we have a great tip for you on how to ensure an adrenaline-filled 2024. Come and join us for New Year's in Georgia. It's going to be a ride!
Preparations for the winter season are in full swing, and we've scheduled the kick-off for the best possible time – New Year's Eve! What better way to celebrate the arrival of the New Year than in freshly fallen powder? We'll welcome you in Georgia on the 29th of December, put on skis the very next day, and together enjoy 6 days of freeriding under the guidance of an experienced guide. What can you look forward to?
Skiing from dawn to dusk
The whole stay takes place in the mountains of the Lesser Caucasus, where we have set up our base in the village of Bakhmaro. It's a strategic position for quality freeriding, located about 50 kilometers as the crow flies from the Black Sea at an altitude of approximately 2000 meters. The area offers a variety of slopes, allowing us to ski in almost any weather. On clear days, expansive plains above the base are prepared for us, but if it snows and visibility is low, a snowcat takes us below the tree line, where we can enjoy beautiful steep slopes with countless jumps. Due to the proximity of the sea, up to 10 meters of powder snow falls here during the season. Isn't that a dream?
If you decide to spend New Year's Eve in this magical place, you can look forward to an all-inclusive package, ensuring you won't have to worry about a thing for the whole week. It includes not only full-board accommodation and transportation to the base but also the rental of all freeriding and avalanche equipment. Most importantly, professional guides who will ensure a safe experience. Every day at 9 AM, they will head to the slopes with you and explore the best snow-covered hills until late afternoon.
Forget about ski lifts
Wondering why we haven't mentioned the proximity of ski resorts and ski lifts? Because we won't need them! The best freeride routes are found in places where no ski lift goes.
One way to reach such places is CATSKI, a combination of freeriding and a snowcat, which will pick you up in the morning and transport you to the tops of surrounding mountains all day. During one day, you can manage approximately 8-10 descents and cover three to five thousand vertical meters.
Another method, offering an even higher dose of adrenaline, is HELISKI. In this case, a helicopter picks you up at the slope and takes you to places unreachable even for a snowcat. That's when you'll understand what it means to freeride in seas of powder.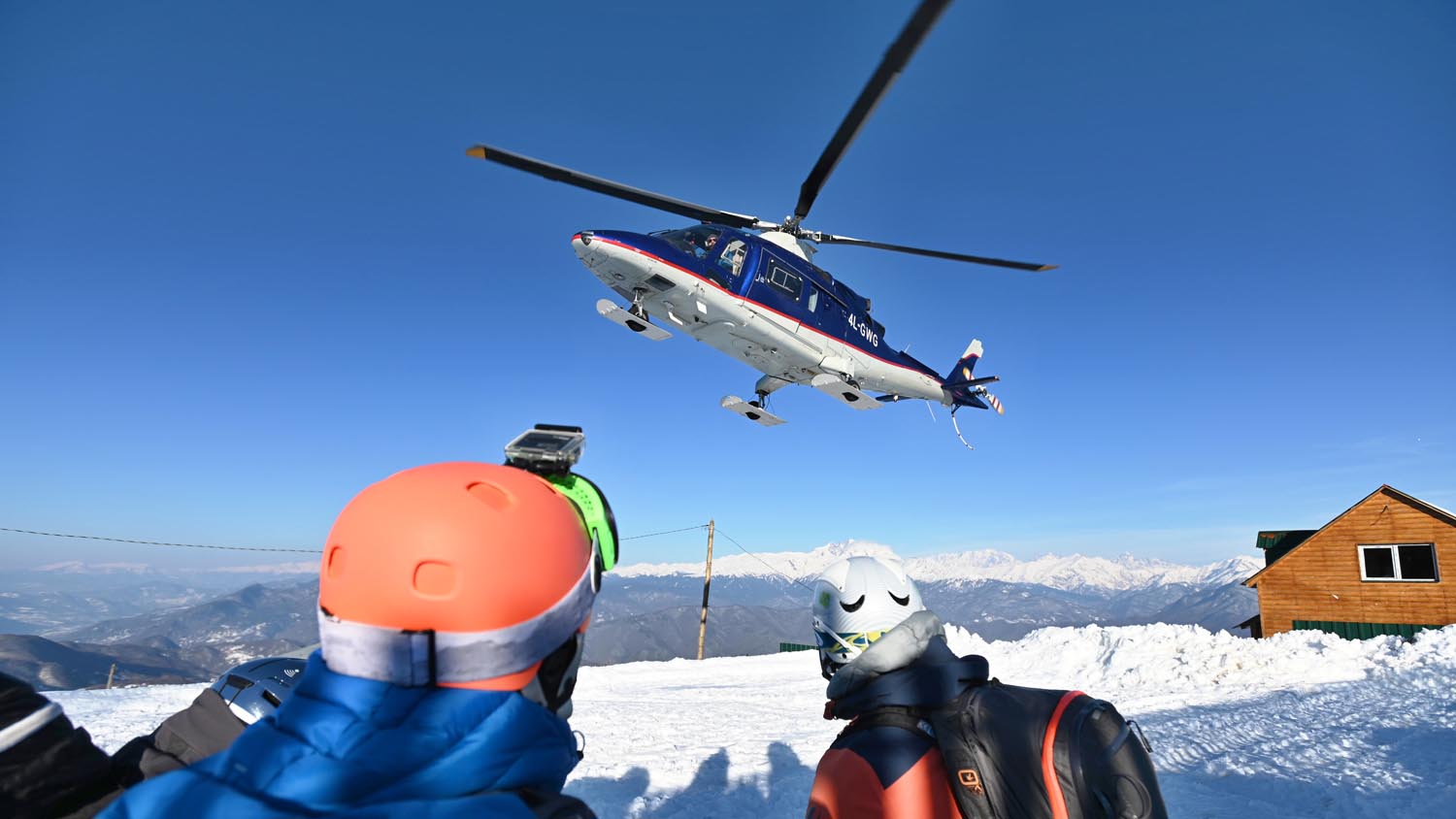 A New Year's Celebration You'll Never Forget
Organizing skiing – that's on us. But it doesn't end on the slopes. What better way to conclude a day on skis than with great food and a drink or two? And what better way to end the passing year? Tables full of Georgian specialties, bottles of local wine, and barrels of our beer. Add to that the view of snow-covered hills and lots of fun with a group of great people. This is something you won't experience anywhere else!
Don't wait, reservations for the first turn of the winter season are now open. So gather your group of friends and secure your spots, and look forward to a New Year's Eve that everyone will envy!
Date: December 29, 2023 - January 5, 2024
Optimal number of participants: 12 people
Accommodation:
Accommodation in houses with double rooms, bathroom, and toilet shared between two rooms. Each house has a kitchen with a dining area, serving as a common room and bar.

In case of night-time arrival or departure, accommodation near the airport with breakfast or dinner is provided, depending on your needs.
Catering:
Full board provided throughout the stay.

Breakfast served buffet style.

Lunches as packed meals in the snowcat – the lunch consists of broth, bread, roasted meat, salami, cheese, vegetables, fruit, and hot water for tea or coffee, with bottled water also available.

Multi-course dinners – we mainly cook renowned Georgian cuisine such as: Khinkali, Khachapuri, Shashlik, Chakapuli, Kebab, etc. Vegetables and salads are a given.

Tea, coffee, and water are included in the meal price. Various types of alcohol are available at the bar.
Share this: