The beauty of Caucasus in northeast Georgia
Duration of the trip: 10 days
Ideal time for trek: June, July, August, September
Brief introduction: This trek takes you to northeast Georgia, the Tusheti areas. During the trek we will pass over 3.000 m passess and have the opportunity to admire the 4.000 m giants of the Eastern Caucasus. We will see the original mountain villages with typical stone towers, characteristic for this mountainous region. We will also stop at the center of the Georgian wine region of Kakheti, in the city of Telavi, where we will be able to taste great Georgian wines.
Trek route: Tbilisi - Achmeta - Batsara - Tbatanis Mta - Alazani - Sakorno Pass - Larovani - Girevi - Nakaicho - Jvarboseli - Omalo - Telavi – Tbilisi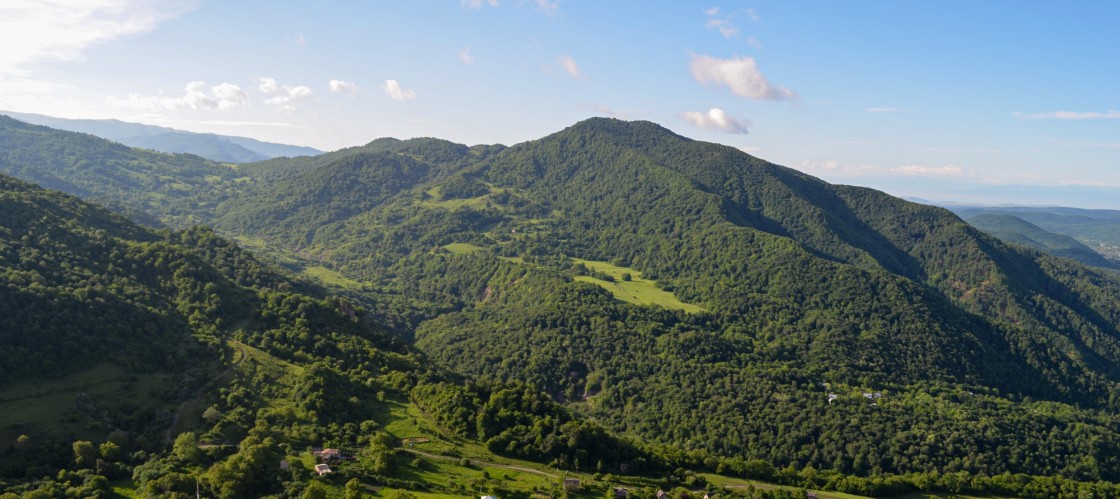 Price includes:
Accommodation in Tbilisi in *** hotel - 2 nights;
Accommodation in local guesthouses during the trek - 3 nights;
Accommodation in tents during the trek - 3 nights;
3x in a day meals (hot breakfast and dinner, packed lunch for the trip). Breakfast, lunch and dinner during crossings in restaurants with excellent cuisine;
Accompanying of the guide throughout the tour, including trekking;
Horses and cars to carry baggage throughout the trek;
All transfers by plan
Price does not include:
Diversions from the main tour plan;
Beverages (alcohol) and food not included in the main menu;
Transport to Georgia: international flight Prague-Tbilisi-Prague
Detailed itinerary:
Day 1 - Arrival in Tbilisi. Transfer to Hotel, dinner, overnight.
Day 2 - After breakfast, drive off-road car over Gombori pass to Kakheti to the village of Batsara at the end of the Pankisi Valley. From there a steep ascent to the ridge and further along the ridge to the springs of water below Mount Tbatanis Mta. Overnight stay in tents (5-6 pm)
Day 3 - Morning after breakfast begins on the ridge to the Alazani River valley (6-7 pm) Accommodation in tents, dinner, overnight.
Day 4 - The journey continues on the descent to the river and then by a steep climb to the ridge to the pass of Sakorno and again descent down to Alazani of Tusheti. The last part of this long day is an ascent to Larovani pass to a height of 3000 m. Accommodation in tents, dinner, overnight (8-9 pm)
Day 5 - All day we will descend through the valley Larovani on the slopes above the river of the same name. The road crosses the river several times and at the same time there are several steep elevations along the way in places that need to be avoided due to impassable rocks. Finally, through Pirikita Alazani we arrive to our guesthouse just before Girevi. Bed and dinner at the local guest house (7-8 pm)
Day 6 - After breakfast, we will hike along the river to Pharsma, cross the bridge and start climbing the opposite slope to the Nakaicho pass. From the pass follows the descent to the village Verkhovani and then to Jvarboseli. Here accommodation in a local guesthouse (6-7 pm)
Day 7 - In the morning we set out on a mountain road that goes up from the river to the hillsides of the Gometsari, passing several villages, including Bochorna (2,345m), Europe's tallest inhabited village, until we reach Omalo, the center of Tusheti. (7 pm)
Day 8 - Next day by car from Omalo to Pshaveli, we will pass Abano (2926m) the highest road pass in Georgia. Along the way you can visit the monastery of Alaverdi - one of the most famous and beautiful pilgrimage sites in Georgia. Evening transfer to Tbilisi via Gombori pass. Hotel accommodation, dinner on the terrace.
Day 9 - departure to the airport.

Recommended equipment:
warm sleeping bag and mat
underwear and socks- at least 3 sets
ankle-trekking shoes
waterproof jacket and trousers
fleece or softshell jacket
warm hat and gloves
sunglasses
approx. 40 liter backpack for personal belongings
large backpack or waterproof travel bag for other things (horses will carry it)
headlamp
bottle + thermos for drinking
sun cream + basic pharmacy
insurance
we also recommend a down (primaloft) jacket, sandals, trekking poles
T-shirts, shorts or trousers with detachable trouser leg

Accommodation during the trip:
1x hotel in Tbilisi;
2x gusethouse with facillities - Alvani;
3x local guesthouses in the villages in the mountains;
3x tent in own sleeping bag, tents including dining provided by us.

Food on the trek:
Breakfast: Each breakfast consists of porridge and other meals.
Another meal: Bacon omelet, cheese omelet, fried sausages, pancakes, cheesecakes, scrambled eggs with sausage, boiled egg.
Dinner: Georgian dinners are rich, consisting of many dishes. The menu usually includes: Khinkali, Khachapuri, Kubdari and many other great delicacies.
Lunch-box: Consists of main dish, fruit or dried fruit, processed cheese, salami, bread, chocolate, water (cold tea with lemon or compote).
Full board in hotel restaurants or proven restaurants with excellent food quality during transfers and stays in towns.

Transport during the trip:
By air: international flight to Tbilisi… THE FLIGHT TICKET IS NOT INCLUDED IN THE PRICE!
By car: From airport to Alvani, Alvani – Tbilisi : All by company minibuses, Omalo - Telavi : Off-road vehicles
All you need during trekking is your personal belongings and clothes. We provide food, drink, and accommodation!! Things you will not need on the trek (clean clothes, etc.), you can leave in the Tbilisi hotel, you will have them ready again when you return.
During the trek, your big luggage will be carried by a carrier (porter or horse), or it will be transported by car. Its weight should be 15 kg, for every extra kilo there is an additional charge of 5 EUR, and it should be pack in a waterproof bag. You carry only a small backpack with personal things - jacket, headlamp, gloves, snack, drink, etc.