Price for 1 person: 3 640 Eur for at least 8 people in a group
Optimal number of participants: 8 or 12 persons;
Elevation of slopes: 400-700 meters for heli-ski, 400-800 m for cat-ski;
Number of runs per day: heli-ski 1.5 hour flight (approx. 7-9 descents) + surcharge cat-ski is not limited;
Optimal activity time: January, February, March.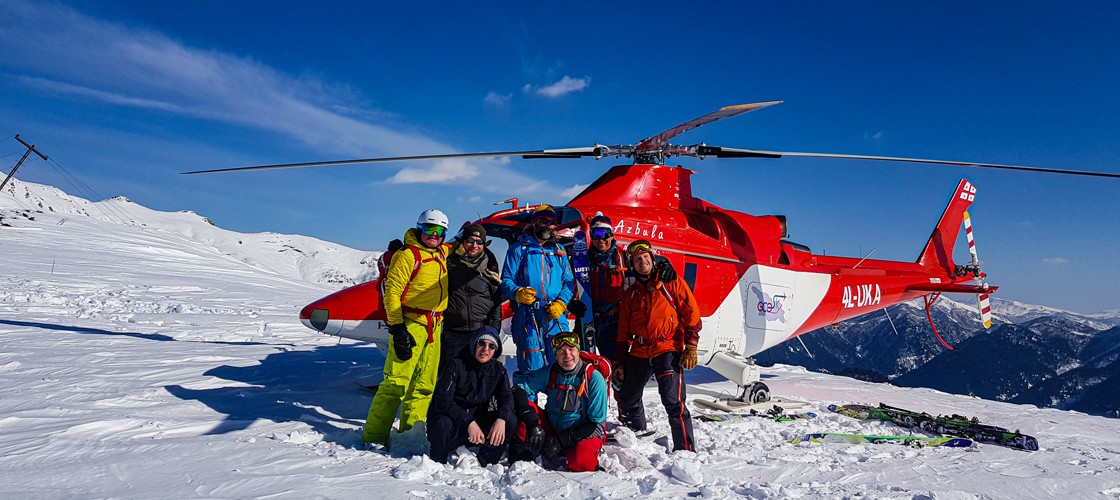 PROGRAME:
Day 1 - arrival to Kutaisi or Tbilisi, pick up group at the airport, transport by minibus and snowcat to base, accommodation, pick up ski and avalanche equipment, safety training and CAT-SKI and HELI-SKI rules. If you are interested, we can arrange a flight from the airport to our Mountain Ski Base with our helicopter for a small fee. Depending on your flight and taste, you can go for half-day skiing ... maybe try half-day HELI-SKI;
Day 2 to 7 - no limit CATSKI - all day skiing with the help of a snowmobile without limiting the number of descents or altitude meters - 5 days + 1day HELI-SKI = paid 1.5 flight hours with the possibility to buy another one for 13 Eur / minute flight. In case of interest it is also possible to buy additional flight days in the price of 1250 EUR / 1day / person. On the afternoon the last day of departure from the base of Bakhmaro with minibus and then transport to Kutaisi or Tbilisi, departure back to Europe or accommodation in a hotel and overnight accommodation;
Day 8 - Departure back home for a flight that is up to this day.
We can arrange all flights for you!
PRICE IS INCLUDED:
5 days CATSKI without limiting the number of descents or altitude meters (everything is limited only by your physical condition and length of day!);
1 day HELISKI - every day 1.5 flight hour with the possibility of buying another one in the price of 13 Euro / person / each started minute;
SKITOURING around the base with the possibility of climbing the main ridge above Bakhmaro - in case of interest it is possible to include a day on the skialps instead of cat skiing
6 x services with certified guide, in heliski each group of 4 people has their own guide;
All transportation by minibus from Mountain Ski LLC;
6 x accommodation at Mountain Ski base Bakhmaro in cottages with own sanitary facilities;
Possible accommodation in Kutaisi or Tbilisi - 1 night (breakfast, dinner);
3 x daily meals, buffet breakfast, packed lunches for hikes or hikes or classic lunch at the base, warm dinner of classic Georgian cuisine, soft drinks included;
Food during transport to and from the airport;
Water during transport;
Free rental of freeride skis or snowboards with belts or snowshoes, telescopic poles;
Free rental of avalanche equipment - ABS backpack, avalanche search engine, probe, shovel.
PRICE DOES NOT INCLUDE:
Ticket;
Possible transports by helicopter;
Insurance of outdoor activities - we recommend Alpenverein;
Consumption of alcoholic drinks.
RECOMMENDED EQUIPMENT
Freeride equipment or ski mountaineering equipment - skis, poles, or freeride snowboard - is not necessary, as it is possible to borrow free of charge within CATSKI and HELISKI;
Freeride shoes;
Clothes for ski or snowboard;
Helmet - free to borrow, glasses;
ABS backpack, avalanche finder, probe, shovel - available for free;
Thermos;
Personal hygiene;
Personal pharmacy
ACCOMMODATION AND CATERING
ACCOMMODATION:
You will be accommodated in wooden houses in double rooms;
In the case of a return flight until Sunday, you will be provided with bed and breakfast at the hotel in Tbilisi or Kutaisi.
CATERING:
Full board is available throughout your stay in Bakhmaro;
Breakfast is buffet style;
Lunch is in the form of a packet for a snowmobile or helicopter - lunch on a chop consists of broth, bread, roasted meat, salami, cheese, vegetables, fruit and hot water for tea or coffee, while bottled water is also available;
Dinners are several-course and cook mostly renowned Georgian cuisine such as: Khinkali, Khachapuri, Shashlik, Chakapuli, Kebab etc., of course vegetables and salads…
Soft drinks are included in the menu… alcohol of all kinds is served at the bar…
During transports, refreshments are prepared in well-tested restaurants;
Before departure a final dinner is prepared in Tbilisi or Kutaisi, or breakfast if you leave the next day