PRICE PER 1 PERSON: 2 190 EUR with at least 10 people in the group
Optimum number of participants: 12 persons
Elevation of slopes: 400-800 m altitudes meters for catski, 800-900 m for skitouring trips
Number of runs per day: cca 8-12
Optimum activity date: January, February, March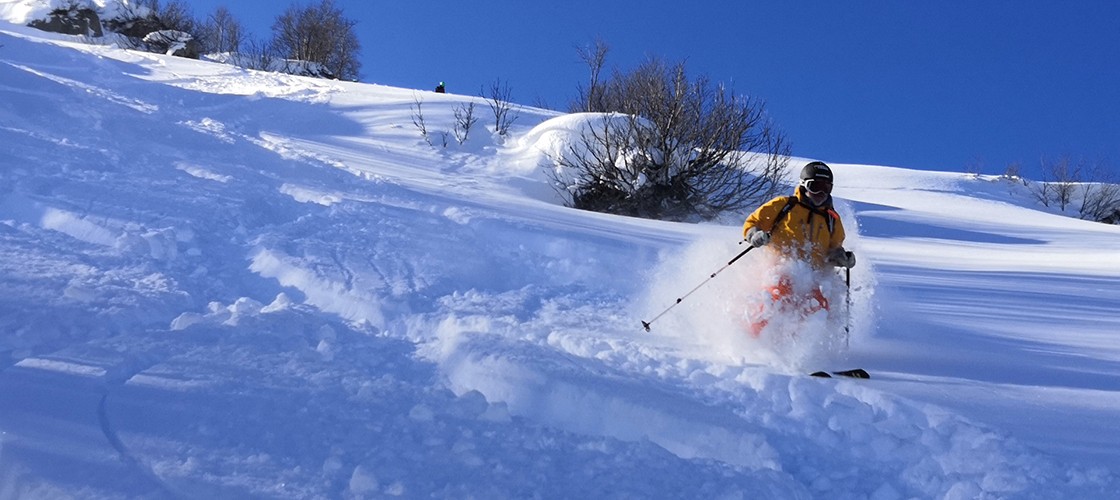 PROGRAMME:
Day 1 – arrival to Kutaisi (Tbilisi), pick-up at the airport, Mountain Ski minibus transport, transport with snowcat to Mountain ski Bachmaro base, accommodation, completation of ski and avalanche equipment, security training and CATSKI rules. If you are interested, It is possible for an additional fee to arrange transportation from the airport to our Mountain Ski base by our helicopter. According to the time of your arrival you can still ski for a half of the day...CATSKI or HELI-SKI.
Days 2-7 – 3 days no limit CATSKI - full-day skiing and freeride with snowcat without limitation of the number of downhill runs or altitude metres + 3 days of skitouring on summits which are not reachable by snowcat, the last day in the afternoon departure from the base by snowcat to the minibus and then transport to Kutaisi or Tbilisi, depart back to home or overnight lodging with dinner and breakfast at a hotel in Tbilisi or Kutaisi
Day 8 – departure home
Direct flights fly from many european cities to Georgian Kutaisi, that is closest to our Mountain Ski base in Bakhmaro. We will be happy to arrange your flight ticket!
THE PRICE INCLUDED:
3 days CATSKI without limits on the number of downhill runs or altitude metres (everything is limited only by your physical condition and the length of the day!);
3 days SKITOURING trips or excursions;
6 x certified guide serivces;
All transport services with "Mountain Ski" minibus;
6 x accommodation at the Mountain Ski base in Bachmaro in cottages with bathrooms on the floor;
Possible accommodation in hotel in Tbilisi or Kutaisi - 1 night with dinner and breakfast;
3 meal per day, buffet breakfast, lunches in the form of lunch packs for the snowcat or classic lunch at the base, warm dinner from classic Georgian cuisine, non-alkoholic beverages included;
Water and food during transportation from or to the airport;
Free rental of freeride or skitouring ski with belt or snowboards with snowshoes, poles;
Free rental of complete avalanche equipment - ABS backpack, avalanche transceiver, probe, shovel
THE PRICE DOES NOT INCLUDED:
The flight ticket;
Possible transportation by helicopter;
Insurance for outdoor activities - we recommend Alpenverein;
The consumption of alcoholic beverages.
RECOMMENDED EQUIPMENT:
Freeride equipment - ski or freeride snowboard - everything it can be rent free of charge within Mountain Ski Bachmaro base;
Freeride shoes;
Clothing for skiing, freeride or snowboarding;
Helmet, skiing and sunny goggles;
ABS backpack, peeps, probe, shovel - again it can be rent free of charge within Mountain Ski Bachmaro base;
Thermos;
Personal hygiene items;
Personal pharmacy.
ACCOMMODATION AND CATERING
ACCOMMODATION:
In Bachmaro you will be accommodated in two small wooden houses in double-bed or triple-bed rooms. Each cottage has own bathroom and toilet, and at the same time, each have a common room;
In the case of a return flight on Sunday, you have an overnight lodging with a dinner and breakfast at a hotel in Tbilisi or Kutaisi.
CATERING:
Full board is guaranteed throughout the stay in Bachmaro;
Breakfast is provided by buffet style;
Lunch is provided in the form of food pack for the snowcat or lunch at the base - lunch near to snowcat consist of broth, bread, roasted meat, salami, cheese, vegetables, fruit, hot water for tea or coffee, bottled water is avaliable as well;
Dinners consist of multi-course and we mainly cook renowned dishes from Georgian cuisine : Chinkali, Khachapuri, Shashlik, Chacapuli, Kebab and of course vegetable and salads;
Non-alcoholic drinks are included in the menu, all kinds of alcohol are served at the bar;
During the transport, refreshments are prepared in certified restaurants;
Before your departure, a final dinner (or breakfast if you are leaving the next day) is prepared in Tbilisi or Kuataisi.