Duration of the trip: 8 days
Ideal time for trek: June, July, August, September
Brief introduction: The most beautiful and at the same time completely unknown trekking in Georgia. The route to the Toba Lakes is practically unknown to foreigners, sometimes it is possible to meet local mountaineering enthusiasts there, but the most of the year mountains of Toba are empty and not touched by human hand. The local nature is wonderfully varied and diverse, the mountain path leads us through dense forests, through meadows to the alpine zone, to beautiful lakes, which are like jewels nestled between the three thousand peaks of the foothills of the Greater Caucasus. In nice weather, everything is enhanced by views of the glaciated Caucasus giants.
Trek route: Mukhuri - Natipuru - Okhoje - Great Toba - Lakhumurash Toba - Zeda Vedi - Kveda Vedi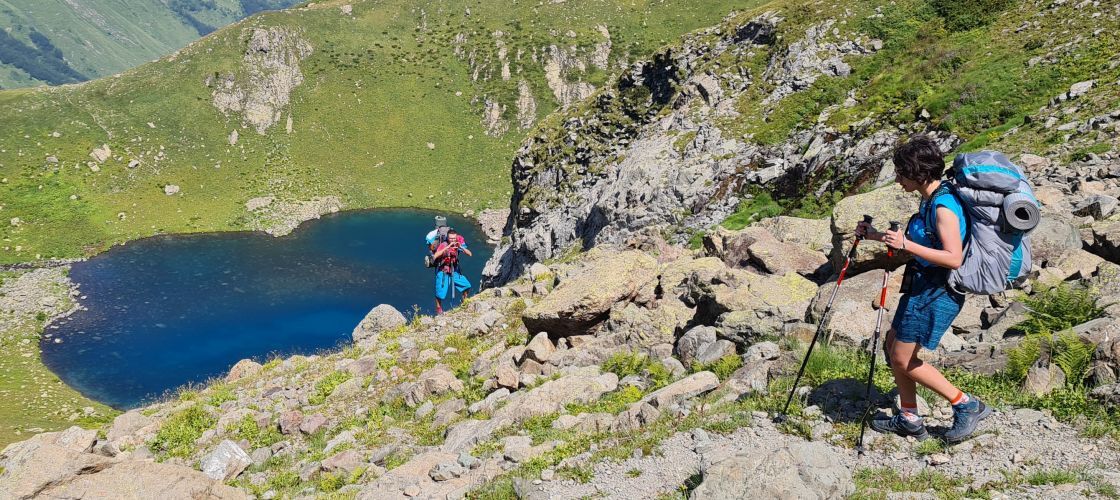 Price includes:
Accommodation in Kutaisi in hotel - 1 night;
Accommodation in local guesthouses during the trek - 1 night
Accommodation in tents during the trek - 5 nights;
3x in a day meals (hot breakfast and dinner, packed lunch for the trip). Breakfast, lunch and dinner during crossings in restaurants with excellent cuisine;
Accompanying of the guide throughout the tour, including trekking;
Horses and cars to carry baggage throughout the trek;
All transfers by plan
Price does not include:
Diversions from the main tour plan;
Beverages (alcohol) and food not included in the main menu;
Transport to Georgia: international flight to Tbilisi or Kutaisi
Detailed itinerary:
Day 1 - Arrival in Kutaisi. Transfer to the hotel, dinner, overnight.
Day 2 - After breakfast, using off road cars, we will head to the saddle below the Natipuri mountain, which height is about 2000 meters above sea level. from here with use of horses, which will carry our main luggage, we will start climbing the marked path to lake Okhoje, 2550 MSL. there we will build a camp near the lake and accommodate ourselves in a tents.

Day 3 - In the morning after breakfast we continue along a marked path, over 2900 meters high saddle to the lake Didi Toba. From there it is possible to make a radial hike to the mountain ridge above the lake, from where there is a wonderful view of the lake and the Great Caucasus on the horizon. (5-6 hours). Accommodation in tents, dinner and overnight near Didi Toba.

Day 4 - The journey continues with an ascent to another 2,800 meters high saddle. From the saddle descend around the lakes Didgalish and Kalalish Toba to the edge of the rock wall above the beautiful lake Tsakatkarish Toba. Those who has an interest, can go down to the lake by securing the rope. After Following the same main route we will arrive to Lake Kalalish Toba. From the lake we descend a rocky path and continue hike down to the valley of the river Khobi. Accommodation in tents at an altitude of 2100 meters, dinner, overnight / (7-8 hours)

Day 5 - Radial hike to Lake Lakumurash Toba. This is a relatively challenging hike, wich can lead to a walk on a rocky mountain ridge. The way back using the same route we will get back to a camp. Bed and dinner in tents. / (7-8 hours)
Day 6 - After breakfast, first descend along the Khobi River, then begin a long and challenging ascent to the Katahtishdudi saddle (2780m). From the saddle we descend about 300 meters to a distinctive platform with beautiful views. Bed and dinner in tents. / (7-8 hours)
Day 7 - In the morning we continue the descent through a long valley around the stream. In total, we will descend almost 2,000 meters. The journey ends in the village of Kveda Vedi / (6-7 hours). Accommodation and overnight in a pension.
Day 8 - The next day departure by off-road cars on the main road to Khashi, then around the Enguri dam to Zugdidi and Kutaisi to the airport and departure home

Recommended equipment:
warm sleeping bag and mat
underwear and socks- at least 3 sets
ankle-trekking shoes
waterproof jacket and trousers
fleece or softshell jacket
warm hat and gloves
sunglasses
approx. 40 liter backpack for personal belongings
large backpack or waterproof travel bag for other things (horses will carry it)
headlamp
bottle + thermos for drinking
sun cream + basic pharmacy
insurance
we also recommend a down (primaloft) jacket, sandals, trekking poles
T-shirts, shorts or trousers with detachable trouser leg

Accommodation during the trip:
1x hotel in Kutaisi;
1x gusethouse with facillities - Kveda Vedi;
5x tent in own sleeping bag, tents including dining provided by us.

Food on the trek:
Breakfast: Each breakfast consists of porridge and other meals.
Another meal: Bacon omelet, cheese omelet, fried sausages, pancakes, cheesecakes, scrambled eggs with sausage, boiled egg.
Dinner: Georgian dinners are rich, consisting of many dishes. The menu usually includes: Khinkali, Khachapuri, Kubdari and many other great delicacies.
Lunch-box: Consists of main dish, fruit or dried fruit, processed cheese, salami, bread, chocolate, water (cold tea with lemon or compote).
Full board in hotel restaurants or proven restaurants with excellent food quality during transfers and stays in towns.

Transport during the trip:
By air: international flight to Kutaisi… THE FLIGHT TICKET IS NOT INCLUDED IN THE PRICE!
By car: From airport to mountains and back: Off-road vehicles
All you need during trekking is your personal belongings and clothes. We provide food, drink, and accommodation!! Things you will not need on the trek (clean clothes, etc.), you can leave in the Tutaisi hotel, you will have them ready again when you return.
During the trek, your big luggage will be carried by a carrier (porter or horse), or it will be transported by car. Its weight should be 15 kg, for every extra kilo there is an additional charge of 5 EUR, and it should be pack in a waterproof bag. You carry only a small backpack with personal things - jacket, headlamp, gloves, snack, drink, etc.