PRICE: FOR 1 PERSON 5.990 EUR / person for at least 4 people in a group
Period (number of days): 8 days
Optimal number of participants: 4, 8 OR 12 people, even for individuals;
Elevation of slopes:  600-1300 altitude meters;
Number of runs per day:   a total of 20,000 altitude meters of descents are guaranteed
Optimal Activity Time: March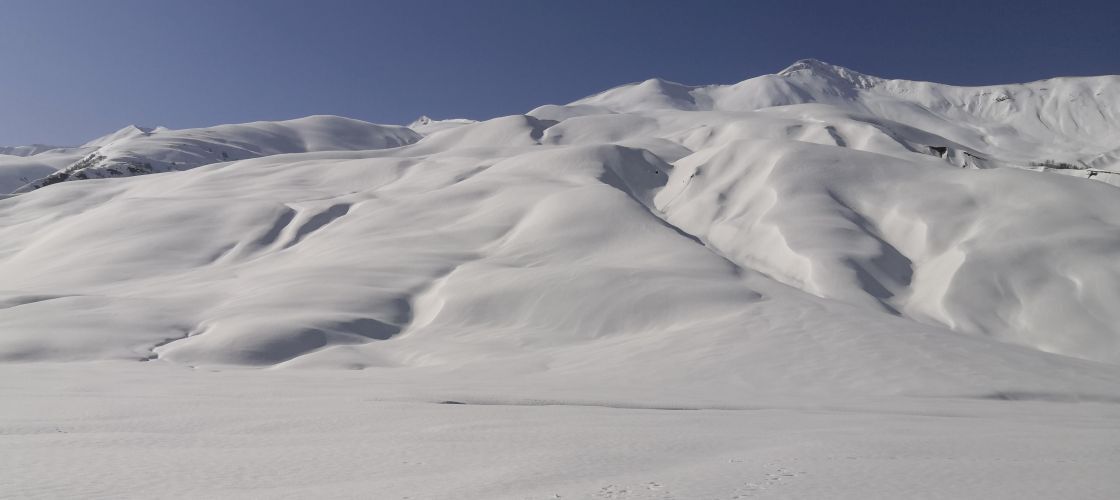 PROGRAM:
Day 1 – arrival to Tbilisi, picking up of the whole group at the airport and transport by mikrobus to the hotel Babaneuris Marani 3***, accommodation, assembly of skiing and avalanche equipment, HELI-SKI safety and rules training. If you are interested, we can arrange the flight from the airort to the hotel by our helicopter for a small fee. The flight takes approximately 25 minutes.
Day 2 to 7 – HELI-SKI = with 4 clients in a helicopter, we guarantee to ski and fly 20,000 vertical meters. After flying 20,000 vertical meters, it is possible to purchase the additional flights at a price of EUR 160 per person / 1000 vertical meters (in the case of 4 clients in a helicopter). Last day´s afternoon departure from Babaneuri base to Tbilisi, departure back to Europe or ovenight at the hotel.
7th day afternoon is possible leave to Tbilisi and have night in hotel in city center. This opportunity is advantageous in case of early morning departures from airport. After arrival to hotel is organized is organized final dinner.
Day 8 – Transport to the airport and departure home
Price includes:
6 HELI-SKI days – the price guarantees to ski 20,000 vertical meters (with 4 clients in a helicopter)
6 x guide services, for HELI-SKI each group of 4 clients has its guide
All transports
6-7 x accommodation in a Mountain Ski base at 3*** Babaneuris hotel and marani in double rooms with a bathroom
1x accomodation in Tbilisi in hotel Gomi 19
Full board - buffet breakfast, lunch to the helicopter or clasical lunch at the Mountain Ski base, soup and some sweet cake after your skiing and big georgian dinner of several courses, non-alcoholic beverages
Free rental of ski equipment - freeride skis, teleskopic poles
Free rental of avalanche equipment - ABS backpack, probe, shovel, peeps
In the case of bad weather when is not possibility to fly we organize the sightseeing trip around Kakheti and its wineries, or you can rent our e-bikes for bike trip
Price does not include:
Air ticket;
Insurance of Outdoor Activities - We recommend Alpenverein;
Consumption of alcoholic drinks.
All what is not direct written in "price includes"
RECOMMENDED EQUIPMENT:
Freeride equipment or ski touring equipment - boots, skis, poles or freeride snowboard - it is not necessary, because it is possible to borrow free of charge within HELISKI in our rental;
Helmet - free to borrow glasses;
ABS backpack, avalanche finder, probe, shovel - free of charge;
Thermos;
Personal hygiene;
Personal pharmacy.
ACCOMMODATION AND CATERING
ACCOMMODATION:
In Babaneuri village you will be accommodated in double rooms in a private bathroom and toilet. The hotel has a Marani (clasic georgian wine cellar), bar and restaurant too.
For an additional fee, it´s possible to be accommodated in a single room
In historical center of Tbilisi in hotel Gomi – one night before departure home
MEAL:
Breakfast in buffet style in our hotel restaurant
Dinner in buffet style with huge choices of salats, fruite and desserts. Or is possibility organize traditional Georgian dinner with tasting of wine from our wine shop or our own produced beer in our second restaurant.
Lunch boxes (take away) to te helikoptér. It contains sandwich, fruit and enough beverages
Water and nonalcoholic beverages are part of breakfast, alcoholic beverages is extra charge for each one person
In Tbilisi is organized final dinner, in case of enough time also breakfast before departure
n request. There is also draft beer and a wine shop with excellent Georgian wines;
Lunch will be provided in the form of heli-lunch in the helicopter during the pause between flights;
Soft drinks are included in the menu, other drinks are paid by each participant;
There is a final dinner in Tbilisi before departure, or breakfast if you leave the next day.