MIDDLE PACKET: 30 minutes
PRICE: from 200 Eur / person
By buying a medium packet, you get a half-hour helicopter flight in the area between Kazbeg and the Gudauri winter resort. The flight goes first in the direction of the highest mountain of Kazbeg, past the Gergeti Monastery, then above the Gergeti Glacier and around the southern wall of Kazbeg. Along the way you can see huge moraine glaciers, Bethlemi hut and glaciated mountain cliffs. Then we fly into the valley of Truso. Gudauri at Chakhi center. We fly around the Gudamakari Valley to Pshavi. Here we fly over the village of Roshka, the Abudelauri and across the Chakhi pass to the other side of the huge massif. The last section leads through the Sno valley to our base.
BASE: KAZBEGI-ACHKHOTI, Green line resort Ethnograph
HELICOPTER: Agusta A109k for 6 person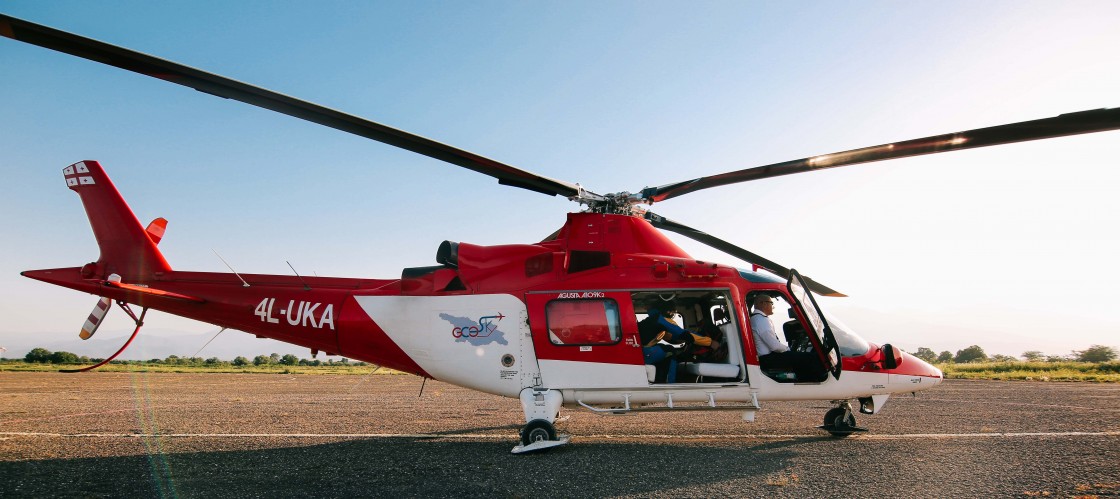 We organize sightseeing flights in Georgia from the base Kazbegi. Kazbegi provide air traffic throughout the year except January and February.
In both places there are eight-seat helicopters Agusta A-109 k2. We organize sightseeing flights for groups of 1-6 people. The price of the flight is always for the whole helicopter and is divided by the number of people in the cabin.
In Kazbegi can also be ordered from three packages - 15, 30, 60 minutes, the difference lies in a completely different landscape and area of ​​flight. Here are the snowy peaks of Caucasus, dominated by the 5.000 m high Kazbeg, deep valleys and remote mountain villages.
Before the commencement of each flight, the participants are having training with the safety rules that are necessary for the operation of the helicopter and the rules of conduct on the board during the flight.
Locations of the bases you can see to the specified address:
Kazbegi-Achkhoti: Green line hotel Ethnograph
Enjoy heli tours with us and be sure that your trip will be amazing.