LARGE PACKET: 60 minutes
PRICE: from 450 Eur / person
TRIP:
When you buy this package, you will not get a one-hour flight over the ridges of Caucasus along with a scertified guide, but also the possibility of landing at a selected point in the mountains, where you can take a short guided walk Snacks and drinks. There will also be trekking poles for safe movement in the mountainous terrain.
Some seats selected for landing: Abudelauri lakes, Truso mountain valley, Sherkhota peak and lake, Bethlemi hut, Tanie lake, Sadzele peak (3307 m), Gergeti glacier, Shatili mountain village in Khevsureti,
We will carefully plan the route of such a trip together with our mountain guide, we will consider your interests and what you want to see. The guide will then give you an explanation of the nature and places you visit during your trip and short hikes.
Each route will be individual, exactly according to your requirements.
BASE: KAZBEGI-ACHKHOTI, Green line resort Ethnograph
HELICOPTER: Agusta A109k for 6 person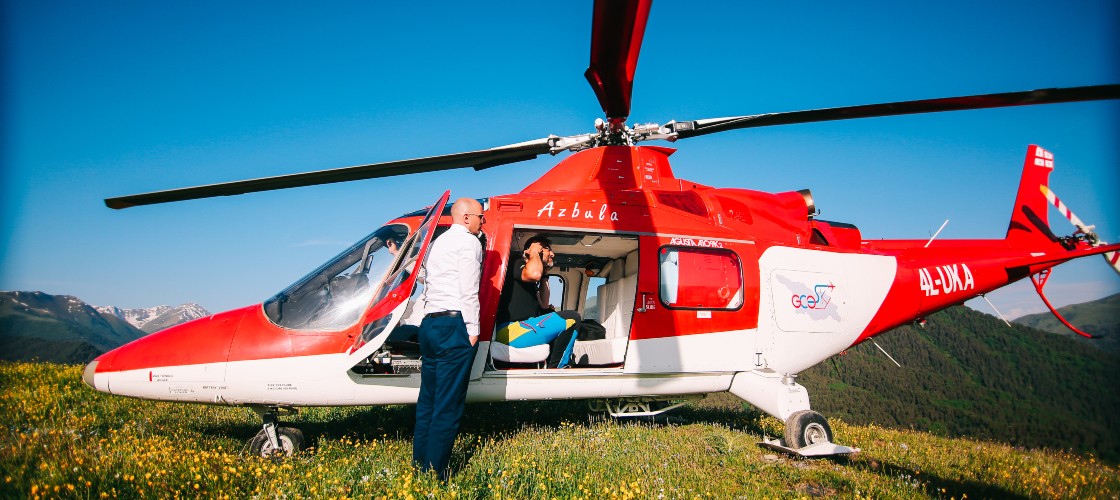 We organize sightseeing flights in Georgia from the base Kazbegi. Kazbegi provide air traffic throughout the year except January and February.
In both places there are eight-seat helicopters Agusta A-109 k2. We organize sightseeing flights for groups of 1-6 people. The price of the flight is always for the whole helicopter and is divided by the number of people in the cabin.
In Kazbegi can also be ordered from three packages - 15, 30, 60 minutes, the difference lies in a completely different landscape and area of ​​flight. Here are the snowy peaks of Caucasus, dominated by the 5.000 m high Kazbeg, deep valleys and remote mountain villages.
Before the commencement of each flight, the participants are having training with the safety rules that are necessary for the operation of the helicopter and the rules of conduct on the board during the flight.
Locations of the bases you can see to the specified address:
Kazbegi-Achkhoti: Green line hotel Ethnograph
Enjoy heli tours with us and be sure that your trip will be amazing.