TUSHETI
PRICE: from 650 Eur / person, for 5 persons + guide
DESCRIPTION: On this hike, we will take you to the Tusheti mountain area in 30 minutes, where otherwise you need a few days toreach it. The helicopter will drop you right in the middle of this beautiful area at the beginning of the Makratela ridge, which separates the Pirikita and Tusheti Alazani rivers. We will set out on this ridge at a height of about 3000 m to the top of Makratela and the saddle Nakaicho. From there we will start descending with plenty of serpentines to the cross of Pirikita Alazani. Upstream, we will reach the magnificent historic village of Pharsma. From here it is a short walk to Girevi, where a helicopter will be waiting for you.
DIFFICULTY: MIDLE
LENGTH: 17.2 KM
ALTITUDE: up 680 m, down 1330 m
BASE: Green line hotel Ethnograph, Kazbegi-Achkhoti
HELICOPTER: Agusta A 109k for 6 person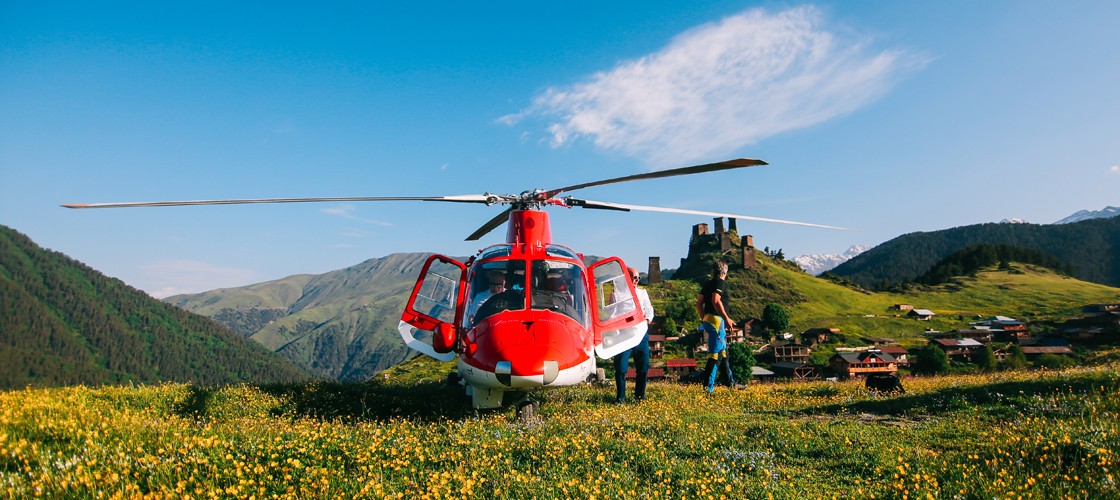 Each heli-hiking participant should have:
Solid hiking boots, better waterproof;
Waterproof and windproof jacket;
Comfortable long pants;
Warm fleece jacket;
Scarf or cap;
Glove;
Sunglasses;
Backpack;
Thermos or drinking bottle.
Heli-hiking is a new type of mountain activity that allows people to have a mountain hike in absolutely unique, untouched areas of the mountains, where there are no paths or trails, and the only way to get there is by helicopter.
We have prepared for you several such trips in the Caucasus mountains. In the morning we will pick you up at your hotel, take you to our base, where you will get all the necessary instructions about regarding safety and helicopter transport. Then, along with your mountain guide, we will take you to the mountains where you will take your chosen hike route.
We will plan the trip according to on your assignment of different lengths and difficulty. In the afternoon or evening, a helicopter will fly for you and take you back to the base.
In the morning you will get a snack and drink on a hike. Those who need will receive trekking poles.