PRICE: from 200 Eur / person, for 5 persons + guide
A short helicopter flight will also take you across Chaukchi Pass to the Pshavi area to the beautiful Abudelauri Lakes on the east side of Chaukchi Massif. From the lakes we set off on a steep slope of the Chakhi pass that leads us back to Machevi. We will descend from the saddle first by rubble, then by grassy slopes below the northern face of the massif, which is probably the most beautiful in terms of its visibility. The climbing camp at the mountain promenade continues along the stream to the end of the trail in the village of Juta.
DIFFICULTY: medium
LENGTH: 11.5 km
ALTITUDE: up 770 m, down 1210 m
BASE: Green line hotel Ethnograph, Kazbegi - Achkhoti
HELICOPTER: Agusta A 109k for 6 person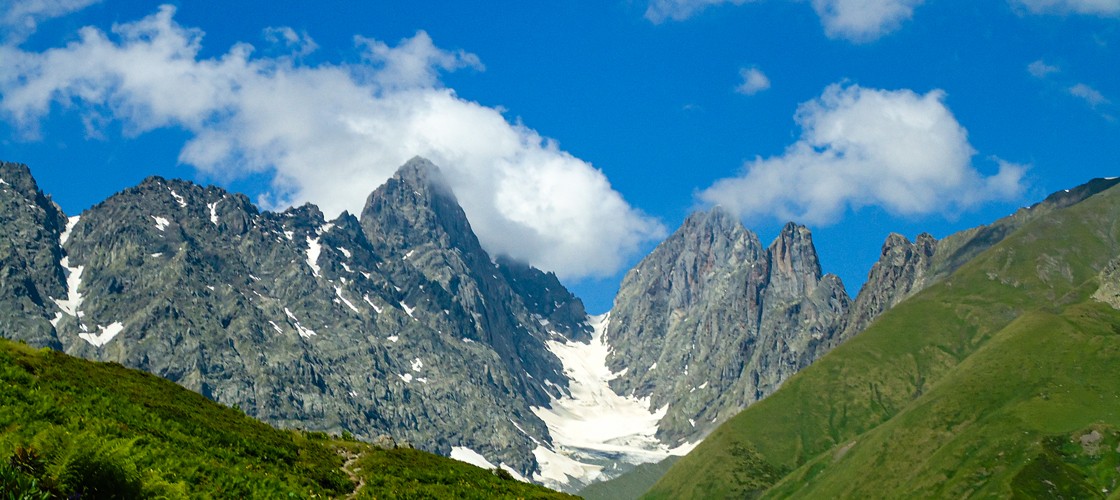 Equipment for heli hiking:
Because we travel a long distance very quickly by helicopter and get altitude where temperatures are low, it is necessary to have the right clothes and equipment;
Each heli-hiking participant should have:
Solid hiking boots;
Waterproof and windproof jacket;
Comfortable long pants;
Warm fleece jacket;
Scarf or cap;
Glove;
Sunglasses;
Backpack;
Thermos or drinking bottle.
Heli-hiking is a new type of mountain activity that allows people to enjoy mountain hike in absolutely unique, untouched areas of the mountains, where there are no paths or trails, and the only way to get there is by helicopter.
Adjara and Caucasus Mountains. In the morning we will pick you up at your hotel, take you to our base, where you will get all the necessary instructions regarding safety and helicopter transport. Then, along with your mountain guide, we will take you to the mountains where you will take your chosen hike route.
We will plan the trip according to your assignment of different lengths and difficulty. In the afternoon or evening, a helicopter will fly for you and take you back to the base.
In the morning you will get a snack and drink on a hike. Those who need to receive trekking poles.