KAZBEGI - GERGETI GLACIER
PRICE: from 250 Eur / person, for 5 persons + helicopter guide
DESCRIPTION: A beautiful glacier hike that takes you to Gergeti Glacier and the top of Ortsveri Mountain, where you have a magnificent view of Kazbeg Mountain. Then we go back to the Bethlehem hut mountain lodge. Gergeti Glacier is situated on the meadows of Saberdze.
DIFFICULTY: HEAVY
LENGTH: 15.5 km
ALTITUDE: up to 530 m, down to 2020 m
BASE: Green line hotel Ethnograph, Kazbegi-Achkhoti
HELICOPTER: Agusta A 109k for 6 person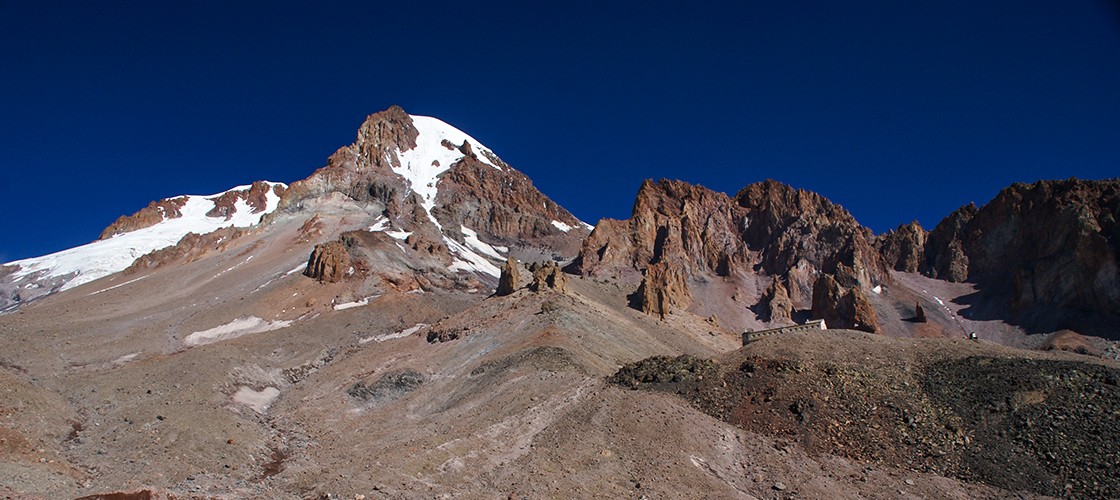 Equipment for heli hiking:
Because we travel a long distance very quickly by helicopter and get altitude where temperatures are low, it is necessary to have the right clothes and equipment;
Each heli-hiking participant should have:
Solid hiking boots;
Waterproof and windproof jacket;
Comfortable long pants;
Warm fleece jacket;
Scarf or cap;
Glove;
Sunglasses;
Backpack;
Thermos or drinking bottle.
Heli-hiking is a new type of mountain activity that allows people to enjoy mountain hike in absolutely unique, untouched areas of the mountains, where there are no paths or trails, and the only way to get there is by helicopter.
We have prepared for several trips in the Caucasus mountains. In the morning we will pick you up at your hotel, take you to our base, where you will get all the necessary instructions regarding safety and helicopter transport. Then, along with your mountain guide, we will take you to the mountains where you will take your chosen hike route.
We will plan the trip according to your assignment of different lengths and difficulty. In the afternoon or evening, a car from the Sameba church take you back to the base.
In the morning you will get a snack and drink on a hike. Those who need to receive trekking poles, crampons, ice ax and other equipment.