Price for 1 person: 50 EUR
Introduction: We offer you an E-bike tour for trail riders around Zuruldi mountain. Zuruldi is a mountain located in front of Mestia in the middle of the Enguri and Mulkhura river valleys. This mountain is good with its single track trails in the woods on the slopes of mountains, there is many technical uphills and downhills for skilled riders to have fun there.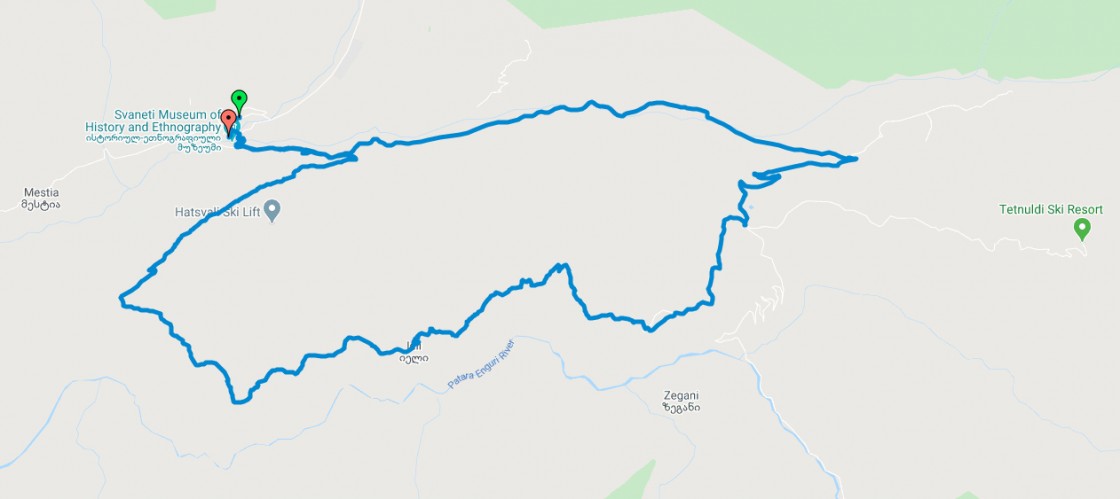 Itineraries:
There are two options for the first stage of the road around the mountain, first taking a ski lift to Hatsvali ski resort and after that cycle to the direction of Hashkili huts on the east side of mountain, second is taking road uphill to Heshkili, after that we go on the gravel downhill to village Ieli. From Ieli to Tsvirmi village we are going on the single track, first half kilometer on uphill, then on technical trails on the slope of the mountain and some downhill stages. After Tsvirmi we are going to Ugviri pass on the altitude of 2000 m which is a crossroad of the Tetnuldi and Ushguli ways. After Ugviri we have road downhill stage to the valley of Mulaxura and we go beside this river to the Mestia.
Cycling route details:
Distance: 40 km;
Difficulty: Hard;
Road type: gravel / 60 %;
Elevation gain: 900 m;
Min. elevation: 1400 m;
Max. elevation: 2000 m;
East. Moving time: 4 h
Cost of the Cycling Tour includes:
Provision of the tour participants with electric mountain bicycles and protective equipment (helmets);
Guide (Instructor).