Price for the trip : 250 EUR per 1 - 4 clients
Introduction: We offer a one-day bicycle tour to Tbilisi National Park, near Mtskheta. The tour participants will have a unique opportunity to enjoy nature at its finest and explore the numerous cultural and historical sites (Mamkoda and Martkopi Monasteries) by Electric Mountain Bikes.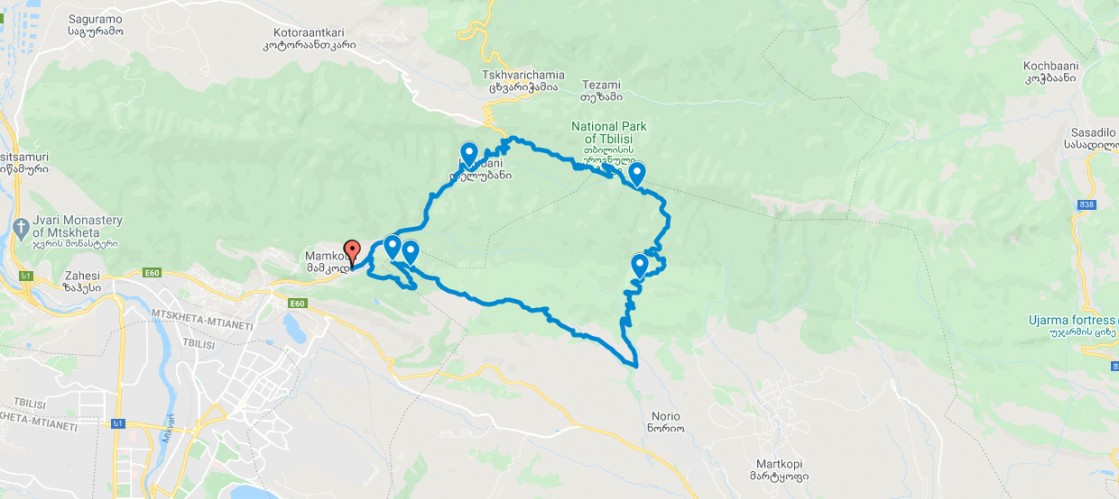 Itineraries:
The Bicycle Tour will start in the village of Mamkoda (around 20km away from Tbilisi), and we will visit the following places:
Mamkoda Monastery - is located in the community of Tskhvarichamia, in Mtskheta Municipality. The monastery complex was built in the 19th century and consists of two churches named after St. George. St. George and the Virgin Mary. One of its remains can be associated with xenon (hospital). Herewith, a special place for storing medications can also be found on its territory.
Martkopi Monastery (also known as 'Ghvtaeba') - is located near the village of Martkopi, in Gardabani Municipality, 32 km from Tbilisi. It is placed on the slope of Mount Ialno, covered with forest.
The monastery was founded in the 6th century, one of the 13 Assyrian Fathers - Anton Martkopeli who lived the life of a hermit ('Martomkopeli' refers to someone living alone, hence the name of the Monastery). He built himself a tower offering splendid views of the surrounding areas and spent the last 15 years of his life there. The bridge sacred placed is the tomb of st. St. Anton, which was preserved to this day. The main church of the monastery was keeping the image of the Savior, but, unfortunately, the icon was lost during the invasion of Tamerlane in 1395.
The monastery was functional until 1934, and then was closed down by communists. In the 1950s-60s, a shelter for homeless children was opened on its territory. The monastery life was restored in 1989.

Cycling route details:
Regions to be visited: Mtskheta-Mtianeti and Kvemo Kartli
Distance to car: 20 km;
Distance to be covered by bicycle: 39 km;
The difficulty level of the Cycling Tour: Hard;
Road Type: Gravel Road - 90%;
Elevation Gain: 1.200 m;
Min. Elevation: 600 m;
Max.Elevation: 1550 m;
Est. Moving Time: 4 h.
Additional Information:
The total length of the Cycling Tour: 1 full day;
Meeting place: to be determined;
Meeting date and time: to be determined;
Return date and time to Tbilisi: to be determined.
Cost of the Cycling Tour includes:
Transfer by Minibus (From Tbilisi to Mamkoda, and vice-versa);
Provision of tour participants with electric mountain bicycles and protective equipment (helmets);
Guide (Instructor).