Price for the trip : 250 EUR per 1 - 4 clients
Introduction: We offer you a one-day bicycle tour to the Tetritskaro Municipality. The tour participants will have the opportunity to explore the ruins of stunning Samshvilde Fortress and enjoy the breathtaking views by Electric Mountain Bikes.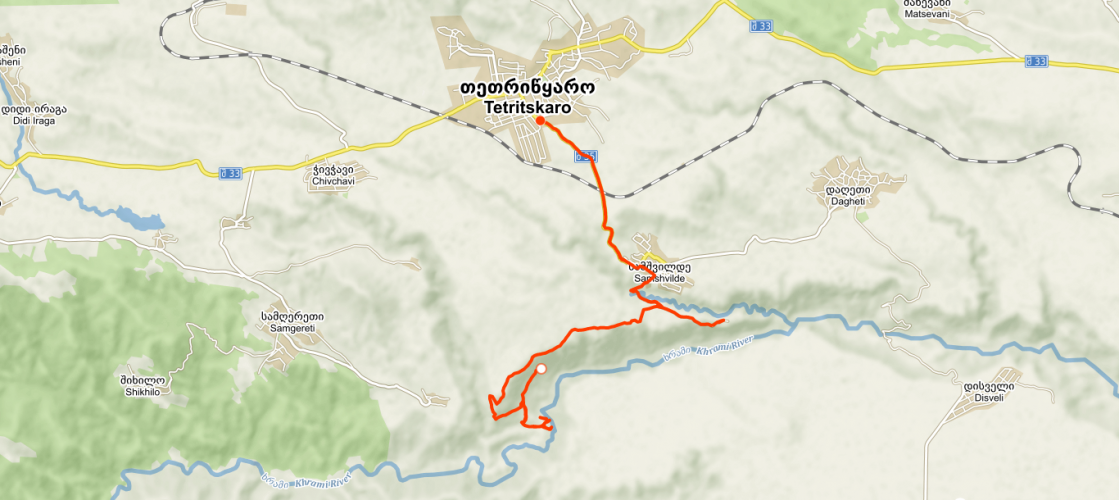 Itineraries: The Bicycle Tour will start in the town of Tetritskaro (around 60 km away from Tbilisi), and we will visit the following places:
Samshvilde Fortress– is one of the oldest historical fortified cities of Georgia located in the Kvemo Kartli region and dating back to the 3rd century BC. It played a significant role in industrial and commercial dynamics during the middle ages. From the 13th century, the city-fortress went into decline and nowadays, only ruins are left out of the walled town.
One should note that Samshvilde (in Georgian 'three arrows') is built in a naturally fortified triangular area, on a rocky terrain surrounded by vertical ravines, near the confluence of two rivers: Khrami and Chivchavi. The remains of some recognizable monuments such as Samshvilde Sioni Church, a Citadel, three-nave basilica, ruins of a palace, menhirs, bathes, water cisterns and other landmarks can be still found there.
Cycling route details:
Regions to be visited: KvemoKartli;
Distance to be covered by car: 60 km;
Distance to be covered by bicycle: 30 km;
The difficulty level of Cycling Tour: medium;
Road Type: Gravel Road - 80%;
Elevation Gain: 1050 m;
Min. Elevation: 600 m;
Max.Elevation: 1200 m;
Est. Moving Time: 4 h.

Additional Information:
The total length of the Cycling Tour: 1 full day;
Meeting place: to be determined;
Meeting date and time: to be determined;
Return date and time to Tbilisi: to be determined.
Cost of the Cycling Tour includes:
Transfer by Minibus (From Tbilisi to Tetritskaro, and vice-versa);
Provision of the tour participants with electric mountain bicycles and protective equipment (helmets);
Guide (Instructor).