Price for the trip : 250 EUR per 1 - 4 clients
Introduction: We offer you a one day E-BIKE Tour to explore the nearby areas of Kojori and Kiketi village. The tour participants will have the unique opportunity to enjoy panoramic views and explore the numerous cultural and historical sites by Electric Mountain Bikes.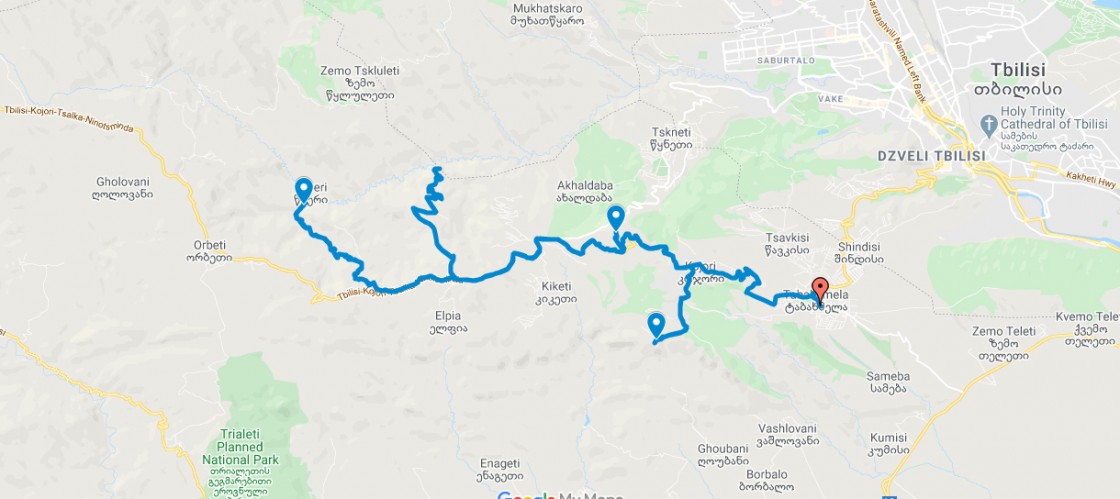 Itineraries:
The Bicycle Tour will start in a small town Tabakhmela (around 20 km away from Tbilisi), and we will visit the following places:
Koroghli Fortress (also known as Agarani or Azeuli Fortress, as well) – is located in a small town Kojori, in the south-west of Tbilisi, at 1250 meters above sea level and offers breathtaking views of Krami and Algeti river gorges. The earliest layers of the stronghold date back to the 2nd half of the 11th century. The fortress has been restored several times, and the pieces of wall that remain standing to belong to the 16-18th centuries. According to some historians, Queen Tamar died there.
Udzo – is a mountain, with an elevation of 1416 meters, placed on the south-eastern slope of Trialeti range, above the village of Kojori. On the top of the hill, visitors can find Udzo Monastery, a medieval monument offering splendid views over Tbilisi and surrounding areas.
Betania Monastery of the Nativity of the Mother of God – is a medieval Georgian Orthodox Monastery located in the wooded valley of Vere River, 16 km south-west of Tbilisi, near Kiketi. The church has a remarkable cross-in-square design with a dome on top of it, built in the 'Golden Age' of the Kingdom of Georgia, at the turn of the 11th and 12th centuries. The Betania Monastery is famous for the valuable frescoes and portraits of 3 Georgian monarchs: George III, his daughter Queen Tamar, and the son of the later George IV.
Tsveri St. George Church– is located on a small rocky hill in the north-east of Tetritskaro (around 38 km away from the town). The church, built out of bricks and stones, is placed in a stunning nature surrounded by mountains and forests and offers breathtaking views of the nearby villages and capital city.
Cycling route details:
Regions to be visited: Tabakhmela, Kojori, Kiketi;
Distance to be covered by car: 20 km;
Distance to be covered by bicycle: 73 km;
The difficulty level of Cycling Tour: Hard;
Road Type: Gravel Road - 70%;
Elevation Gain: 2210 m;
Min. Elevation: 800 m;
Max.Elevation: 1400 m;
Est. Moving Time: 7 h.
Additional Information:
The total length of the Cycling Tour: 1 full day;
Meeting place: to be determined;
Meeting date and time: to be determined;
Return date and time to Tbilisi: to be determined.
Cost of the Cycling Tour includes:
Transfer by Minibus (From Tbilisi to Tabakhmela, and vice-versa);
Provision of the tour participants with electric mountain bicycles and protective equipment (helmets);
Guide (Instructor).