Price for the trip : 250 EUR per 1 - 4 clients
Introduction: E-BICYCLE Tour to Algeti National Park is located in Tetritskaro Municipality. The tour participants will have the unique opportunity to enjoy nature at its finest and explore the cultural and historical sites by Electric Mountain Bikes.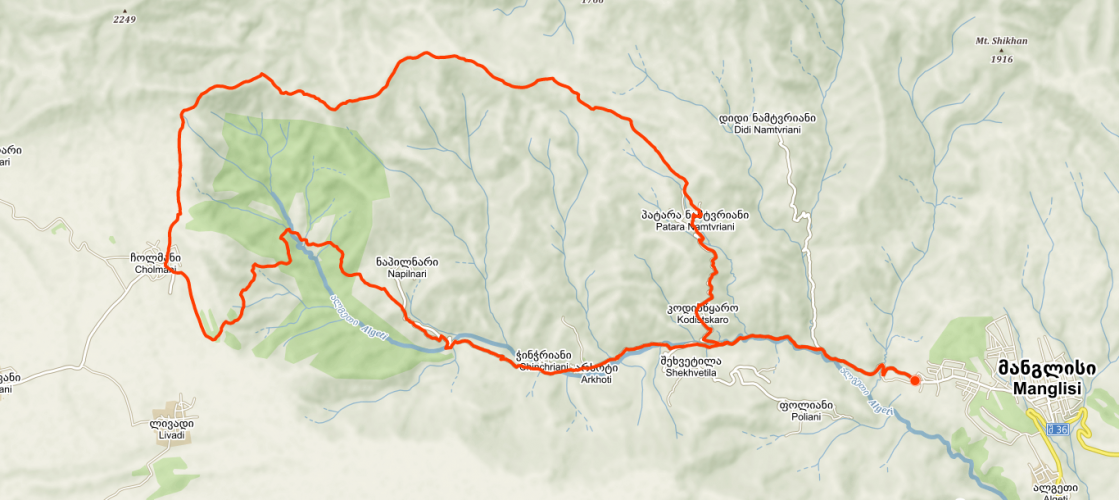 Itineraries: The Bicycle Tour will start in the small town of Manglisi (about 55 km away from Tbilisi), and we will visit the following places:
Algeti National Park – is located in Tetritskaro Municipality, 60 km far from Tbilisi, at an altitude of 1100 – 1950 meters above sea level. The Park stretches along the Valley of Algeti River and covers the southern slopes of the eastern area of the Trialeti Mountain range. Its highest point is mount Kldekari, positioned at 2000 meters above sea level. In 1965, the territory of Algeti was established as a Nature Reserve, but, in 2007, it was given a status of the National Park. The reserve covers 6822 ha, and around 5000 ha of its territory is covered by forest rich in flora (around 1600 species of plants) and fauna (more than 80 species of birds). Mountainous relief of the Park is crossed by a large number of rivers, ravines, and waterfalls.
Kldekari Fortress – is a medieval fortress located in the territory of Algeti National Park, on a rocky pick of Trialeti Mountain range, at an altitude of 2000 meters above sea level. The stronghold was built in the 70s of the 9th century by Liparit I of the Baghuashi to control the roads cut through the cliff, connecting the regions of eastern Georgia with the southern neighboring countries.
Kldekari means 'Rock Gate' which cuts rocky Trialeti range and creates a natural pass – Stone Gate (that is where the name originates from). From the fortress, the visitors can enjoy the views of Tsalka and Manglisi.

Cycling route details:
Regions to be visited: Tetritskaro;
Distance to be covered by car: 55 km;
Distance to be covered by bicycle: 36km;
Difficulty level of Cycling Tour: hard;
Road Type: Gravel Road - 100%;
Elevation Gain: 1380 m;
Min. Elevation: 1200 m;
Max.Elevation: 2000 m;
Est. Moving Time: 4 h.

Additional Information:
The total length of the Cycling Tour: 1 full day;
Meeting place: To be determined;
Meeting date and time: to be determined;
Return date and time to Tbilisi: to be determined.

Cost of the Cycling Tour includes:
Transfer by Minibus (From Tbilisi to Manglisi, and vice-versa);
Provision of the tour participants with electric mountain bicycles and protective equipment (helmets);
Guide (Instructor).