Price for 1 person: 50 EUR
Introduction: We offer you a one-day e-bike tour to Ushguli village located in Zemo Svaneti on the altitude of 2200 m, in the front of Shkhara mountain. It's one of the highest villages in Georgia, you will enjoy its old architecture and views around it. Also, we will go thro the valley to the bottom of Shkhara mountain which is the highest mountain in Georgia (5200 m).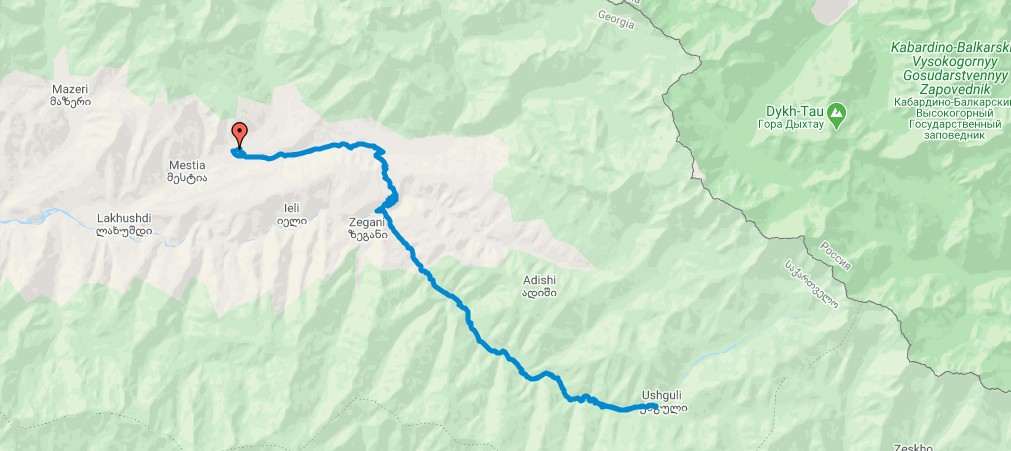 Itineraries:
Tours start from Mestia, the main city of the Zemo Svaneti. On the way, we will go on Ugviri pass from where we will see Ushba mountain and valley to the Ushguli, after that we will see the "tower of love", its separated tower which is built beside to Enguri river. After that, we will go on a 10 km gravel uphill to Ushguli. After Ushguli we will go to the Skhkhara mountains bottom, and then we will get back to Mestia.
Cycling route details:
Region to be visited: Zemo Svaneti;
Distance: 110 km;
Dificulitu level of cycling tour: medium;
Road type: asphalt - 60%;
Elevation gain: 1700 m;
Min elevation: 1400 m;
Max elevation: 2300 m;
Est. moving time: 8 hours.
Cost of the Cycling Tour includes:
Provision of the tour participants with electric mountain bicycles and protective equipment (helmets);
Guide (Instructor).