Price for 1 person: 790 Eur – without guide, 1490 Eur – with guide
Period: 11 days
Ideal tim to participate on trip: January, February, March
Short introduction: South side of main Caucasus ridge in remote area of Georgis is offering a unique combination of excellent downhills, amazing historical sightseeing, delicious georgian cuisine and great wines. All of this in gorgeous, virgin nature which is intensified with hospitality of local people. We will visit centrum of Svaneti – Mestii, three days we will spend with skialpinis activities in the highest located village with permanent settlement in Europe -Ushguli. You will experience tweve unusual days that you will remember for a long time.
Destination: Caucasus - Svaneti, mountain bases - Becho, Mestia, Ushguli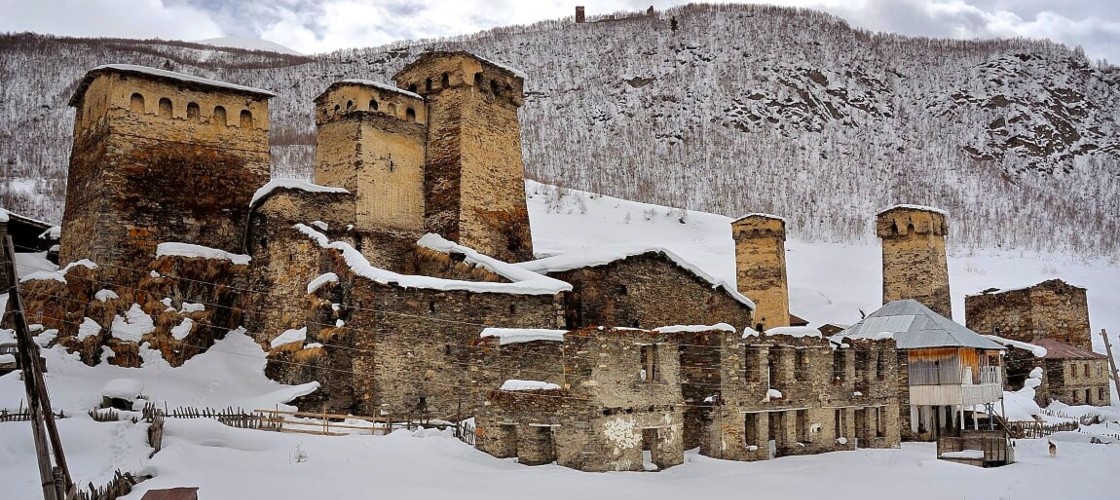 Price includes:
Pickuping of group at the Kutaisi airport, transport to Svanetie and backt to the airport
All next transports in concord of program
Accommodation:
- Kutaisi (1 night) in hotel
- Mestia (5 nights) in local guesthouse
- Ushguli (4 nights) in local guesthouse
Fuul board - breakfast and hot dinners in local guesthouses - excellent quality and large amount + lunch boxes for daily activities

Price does not include:
International fly tickets from/to Tbilisi or Kutaisi
Health insurance
Services that are not written directly in "Program"
Individual transports
Rent of equipment
The costs of rescue
Beverages and meals which are not include in price of group menu
1-2 certificated guides for group depending on number of members (1 guide for max. four persons)

Detailed itinerary of trip:
Day 1 – Arrival at kutaisi airport. Transfer to hotel, 1st night.
Day 2 – Arrival to Mestie. Accommodation in local guesthouse. Preparation for next day. Town tour. In case of morning arrival is possibility of skiing or freerides in resort of Hatsvali above Mestie. Dinner, 2ndnight.
Day 3 – Freeride and skitouring in near area of Tetnuldi resort. For freeride is possible use chairlift in resort. The day is possible finish with downhill to Adishi villagei, where will wait the car for next 25 km long transport to Ushguli. Here 3rd night in guesthouse.
Day 4 to 6 – Skitouring in Ushguli area, visit of Madonna Mary church. Great area for skitouring under the highest peak of Georgia - Schara (5152m). Each day we will make 1 or two ascent with 600-1200 meters elevation difference. Slopes are oriented to the South-East, Nord-west and North.
Day 7 – Morning departure from Ushguli back to Mestie. During the way we get off on the mountain saddle Ugviri, from saddle we will make ascent along the ridge in Zuruldi direction, from peak downhill to Mestie. Or is possibility skiing direct in resort of Hatsvali. Accommodation in Mestia in local guesthouse.
Day 8 to 10 – Freeride and skitouring in near area of Tetnuldi resort. Or is possibility set out on northern slopes of gorgeous Leila mountain (4007 m), or is possibility organize skialpinism ascents and downhill in area above Etseri on the south slopes and participate on downhill with 1800 meter elevation difference! Accommodation in Mestia in local guesthouse. The selection is dependent on weather and snow conditions.
Day 11 – After breakfast departure by car back to Kutaisi airport. Departure home.

Recommended equipment:
Skitouring equipment - shoe, ski, belts, ski poles, split snowboard
Clothes right for skialpinism of ascent with splitsnowboard
Helmet, glasses
ABS rucksack, avalanche locator, probe, shovel – possible to rent
Thermos flask
Personal hygiene necessary
Personal first-aid kit
Insurance
Additional information:
In case of interest we can arrange air transportation from Tbilisi to Mestia and back to the regular line of small turboprop aircraft (15 people). Approx. price of a ticket ....
The region of Svaneti is located in the north-western part of Georgia. A long time has been completely insolated from the outside world. Only 4 years ago was recently repaired a quality road to Mestia, which enables secure access to the region also in the winter months. The path on which together we will go, will be for each one unforgettable adventure. In the region there are several of major Caucasian peaks as Ushba (known as the Caucasian Matterhorn), Shara - the highest peak of Georgia or the landmark of the Mestia - Tetnuldi.The event is designed so that we every day have completed at least one climb and downhill. All are made "lighter" with the only equipment necessary for given day. Some days are conceived as transitions with the use of a ATV vehicle transportation, sometimes we will ride after the trail of climb. Superelevation individual days will be between 1000-1800 meters.
Additional services:
We provide possibility of rental skitouring ski direct in place in our rental shop
We provide possibility of rental ABS backpack, avalanche locator, probe, shovels - direct in place in our rental shop
We provide appropriate insurance for this type of sports activity (Alpenverein)