Price for one person: 695 Eur, (with guide 1250 Eur)
Period (number of days): 8 days
Ideal time for participate on trip: January, February, March, start of April
Short introduction:Gudauri is currently the biggest and the best ski resort in the southern side of Caucasus. The resort is famous for its large number of sunny days and huge amount quality snow, which is ideal for doing skitouring and freerides activities. Apart from skitouring hike and ride in free terrain with our guides we also offer you possibility to try heli ski, which we organize ourselves. Your magnificent ski experiance will be crowned with delicious cuisine and wines in hotel Ethnograph****, where you will be accomodate during stay.
Destination: Caucasus: Kazbegi, Gudauri approximately 120 km faraway from capital city Tbilisi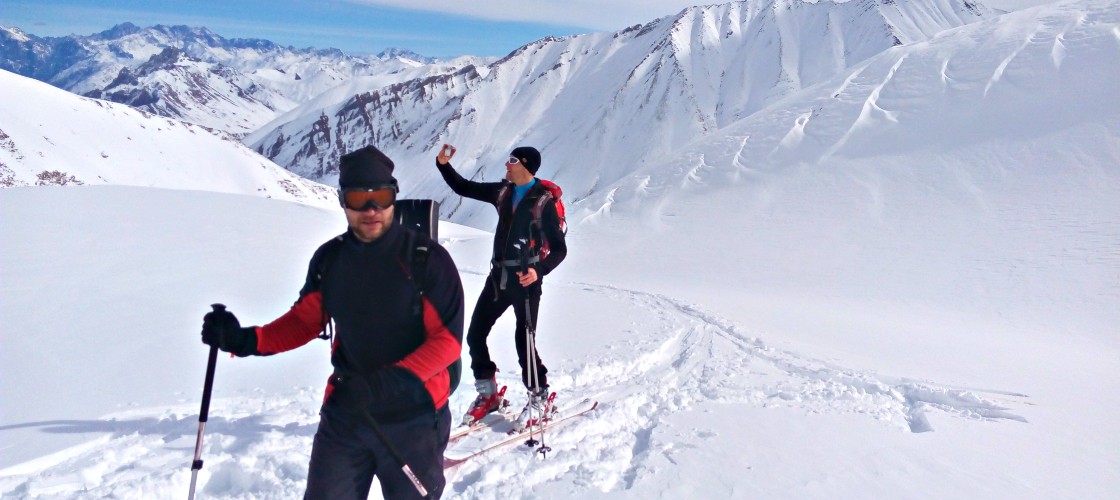 Price includes:
6x (or 7x – depending on flight connection) accommodation in hotel Ethnograph**** in double or four beds rooms with private bathroom and balcony
Wellnes, fitness hall
Half board – breakfast and dinner in buffet style
Skibus to the chairlifts whole day
3x ski pass for resort of Gudauri
Transport from airport Tbilisi, Kutaisi to the hotel and back, assistance of the hotel delegate
Car with driver for transports from hotel to starting places of each hikes.
Rent of skitouring and avalanche equipment (including ABS rucksacks) in hotel rental shop
Information and maps with describing skitouring trips in the area
Tracks of city-cross skiing, Ice-rink for skating direct by the hotel
1x potentially accommodation in Tbilisi in case of early morning departure from the airport
Price does not include:
Flight ticket to Georgia and back
Insurance of injury
Additional hotel services
Services which are not directly written in "Price includes"
Services of licenced hike guide (250 eur/group per day)
Potential heli ski
Additional charge for single room – 300 Eur
We will be happy to arrange all flights for you!

Additional services of Ethnograph hotel:
Restaurant with traditional georgian cuisine, fireplace and covered terrace
Degustation of traditional kachetians wine and our self production beer
Massage
Rental shop of skitouring, avalanche equipment, ski of city-cross skiing, snowshoes and ice-skate
Heli-ski
Outings in vicinity of Kazbegi
Detail itinerary of package tour:
Day 1
Arrival to the Tbilisi or Kutaisi airport. Transport to the resort of Kazbegi (approximately 2,5 h from Tbilisi). Accommodatin in hotel. Preparation for next day. Rent of potential equipment. Familiarization with the program, rules of safety and area. Dinner, 1st night.
Day 2 to 7
Skitouring ascenties and downhill in area of Kazbegi,Gudauri. Freeride in resort of Gudauri. Possibility to order heli ski(only in March and April) half day includes 3 downhill and price is 590 Eur.
In each day is possibility to combine freeride with using chairlifts in resort with skitouring ascents in vicinity of resort or spend time just with one activity during whole stay. Is possible to make reservation for heli ski in vicinity of 15 km from hotel in Kazbegi!!!
skitouring terrains in vicinity of Kazbegi: valley of Truso, Sioni, Gudamakari, Juta, Gergeti,
skitouring terrains in vicinity of Gudauri: Meketi, Lomisa, Dedaena, Khada
7th day afternoon is possible departure to Tbilisi in case of early morning or late night departures to home. Accommodation in hotel, final dinner in traditional georgian style. Last Night
Day 8
Transport to the airport. Departure home.
Recommended equipment:
All equipment – skitouring or freeride ski, shoe, snowboards, snowshoes, ski poles – all of this is possible to rent free of charge within saty package
Clothes right for skitouring or ascenties with splitsnowboard
Helmet, glasses
ABS rucksack, avalanche locator, probe, shovel – possible to rent free of charge within package tour
Thermo flask
Personal hygiene necessary
Personal first-aid kit
Insurance for sports activities
Accommodation during stay:
In mountin resort in Green line hotel Ethnograph, with free of charge skibus service from and back hotel to down station of chair lifts during whole day with 20 min. intervals
Ethnograph is NEW **** hotel with family atmosphere, excellent cuisine, first-rate wine shop and self production of beer. In hotel you can use small Wellness, bar, fitness hall and pleasing sit-down by fireplace.
In the Hotel are two restaurants. First of them is for breakfasts and dinners of hotel guests. In second one you can taste traditional dishes from georgian or european cuisine, taste our self produced Czech beer or traditional "kachetian" wines from hotel´s wineshop.
Hotel runs its own rental shop with ski, skialpinism, snowboard and anti avalanche equipment. We are doing service of ski and snowboards on professionals machines Wintersteiger.
We runs own ice rink for skating, tracks for cross country skiing and kids ski tow directly at the hotel.
A unique part of the hotel is a six-seats helicopter Agusta A 109 k2 for sightseeing flights, organization heli-skiing and transports by helicopter.
Meal during stay:
Breakfast in buffet style in hotel restaurant
Dinner in buffet style with large choice of salats, hot and cold dishes, soups and desserts. Also is possibility to order traditional Georgian dinner consisting of several courses and tasting of traditional kachetian wine.
Lunches are not part of this package tour. Is possible to order lunch in hotel restaurant or order lunch box wthich you can také away for your daily activity.
Non alcoholic beverages and water are part of breakfast. Other drinks are ordered separately.