PERIOD: 8 days
Ideal time: January, February, March
Short description: Gudauri is currently the largest ski resort in Georgia. The resort is equipped with 10 chairlifts and more then 70 km customised downhill runs, most of them are "blue" and "red" difficulty. Direct by the hotel we run's kids ski tow, where we organise ski school. Due to this is ski resort of Gudauri an ideal place for family ski vacation.
Destination: Central Caucas - Gudauri(Georgia), approximately 160 km faraway from capital city Tbilisi
FAMILY PRICE:
1 adult person + 1 child till 16 years ...
1 adult person + 2 childrens till 16 years ...
2 adult persons + 1 child till 16 years ...
2 adult persons + 2 childrens till 16 years ...
2 adult persons + 3 childrens till 16 years ...
1090 € doubleroom
1390 € double room + extra bed
1690 € double room + extra bed
1990 € four-bed apartment or four-beds two-room
2290 € four-bed apartment +extra bed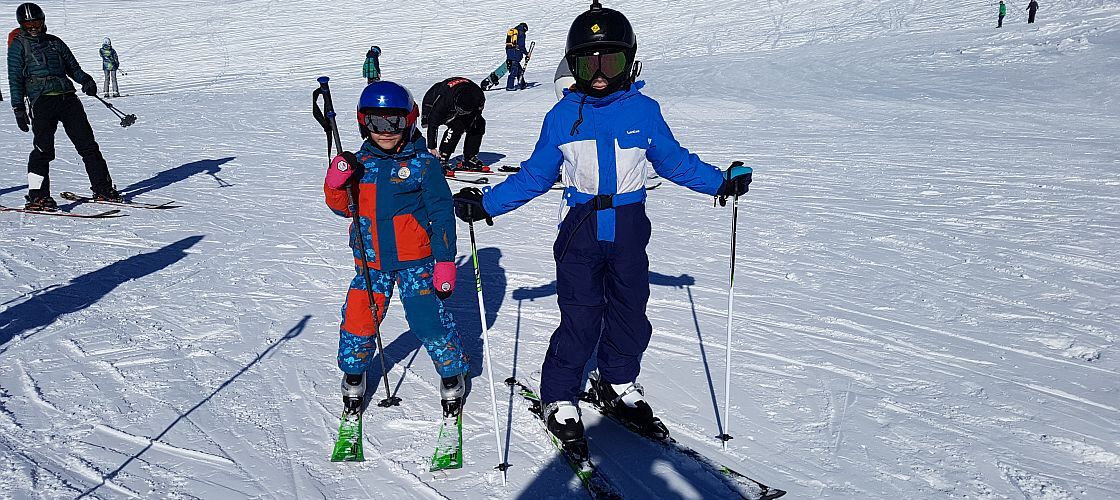 Price includes:
6x (or 7x – depending on the flights connection) accommodation in **** hotel Ethnograph in double rooms with private bathroom and balcony
Wellnes, fitness hall
Half board – breakfast and dinner in buffet style
Ski bus connection to the chairlifts, ski lifts whole day
6x ski pass to the ski resort of Gudauri
Transport from the airport Tbilisi, Kutaisi to the Hotel and back
Ski, snowboard ore ice-skate equipment rental in Hotel
Children´s ski lift and ice-rink at the Hotel
1x accommodation in Tbilisi when the flight is in the early morning

Price does not include:
Fly ticket to Georgia and back
Accident insurance
Additional Hotel service
Services that are not written directly in "Price includes"

Additional Ethnograph Hotel Service:
Restaurant with traditional Georgian cuisine, fireplace and covered terrace
Degustation of traditional "kachetin" wine and our selfmaked beer
Massages, yoga and workout classes
Ski school for kids and adults
Skialpinism and treks on snowshoes with our guides
Rental of skialpinism, snowslide equipment, cross-country skis, snowshoes and ice skates
Heli-ski
Trips around Kazbegi
Babysitting with program

Detailed itinerary of the stay:
Day 1
Arrival in Tbilisi or Kutaisi. Transport to the Ethnograph – Green line hotel. Accommodation in hotel. Welcome meeting with information for upcoming week, pick up sports equipment. In case of morning arrival is the possibility of skiing in resort of Gudauri. Dinner
Day 2-7
Skiing on downhill runs – mainly "blue" and "red" difficulty, due to this is skiing in Gudauri conventient for families with kids. All downhill runs are everyday modified by "snow cat", so every morning you entering smooth "manchester".
Or is possibility of freeride in open terrain. There are a huge number of these slopes in the whole area. You can downhill to the Kazbegi side with our experienced guide and try virgin north slopes with no damaged dusty snow
Possibility to rent skitouring equipment and try climb and downhill peaks which are near of the resort also with our licensed, experienced guides.
For snowboards or winter treks lovers we have available also snowshoes in rental shop. You can use them for entering areas where the average visitor of resort will not go.
We are offering ski school for kind which is direct near of the Hotel with belt escalator instead of ski tow for easy learning
For adults we organize skialpinism school together with courses for safe stay in the mountains. All equipment is avaliable for rent, avalanche equipment. It means ABS rucksacks, avalanche locators, probes and shovels.
Customers can also make reservation for heliskiing- half day includes three runns with price 590EUR (only in February and April).
You can combine all activities and every day enjoy one of them. You can make reservation for equipment in advance, then you will exactly know that is available.
Day 7
In the evening after 4 pm is possibility leave the Hotel for Tbilisi and have one night there before departure home.
Day 8
Transport to the airport, departure.

Accommodation durind stay:
In mountin resort in Green line hotel Ethnograph, with free of charge skibus service from and back hotel to down station of chair lifts during whole day with 20 min. intervals
Ethnograph is NEW 4**** hotel with family atmosphere, excellent cuisine, first-rate wine shop and self production of beer. In hotel you can use small Wellness, bar, fitness hall and pleasing sit-down by fireplace.
In the Hotel are two restaurants. First of them is for breakfasts and dinners of hotel guests. In second one you can taste traditional dishes from georgian or european cuisine, taste our self produced Czech beer or traditional "kachetian" wines from hotel´s wineshop.
Hotel runs its own rental shop with ski, skialpinism, snowboard and anti snowslide equipment. We are doing service of ski and snowboards on professionals machines Wintersteiger.
We runs own ice rink for skating, tracks for cross country skiing and kids ski tow directly at the hotel.
Hotel is offering babysitting with program
A unique part of the hotel is a six-seats helicopter Agusta A 109 k2 for sightseeing flights, organization heli-skiing and transports by helicopter.

Eating (Dishes) during stay:
Breakfast in buffet style in Hotel guests restaurant.
Dinner in buffet style in Hotel guests restaurant with large choice of slats, hot and cold dishes, soups and desserts. It is possibility to make reservation for traditional Georgian dinner with few-course meal and tasting of traditional "kachetian" wine.
Lunches are not part of this package. You have possibility order lunch in hotel restaurant or ask for preparing "take away" lunch box for your daily outdoor activity.
Non-alcoholic drinks and water are part of breakfast. Other drinks are for a extra charge.