PRICE FOR 1 PERSON: 4.490 EUR for at least 4 people in a group 
Period (number of days): 5 days
Optimal number of participants:  4, 8, 12 OR 16 people, even for individuals;
Elevation of slopes:  600-1300 altitude meters;
Number of runs: 1,5 flight hour for HELI-SKI (cca 6 - 7 runs) - possibility to pay more runs
Optimal activity time: February, March
A unique offer on how to combine perfect skiing on the unspoilt slopes of the Caucasus with a tasting of the famous Georgian cuisine and great Kakhetian wine. Comfortable accommodation in the middle of vineyards and in a few minutes endless snowy slopes in the deserted mountains, this is our offer of a three-day heliski in Tusheti.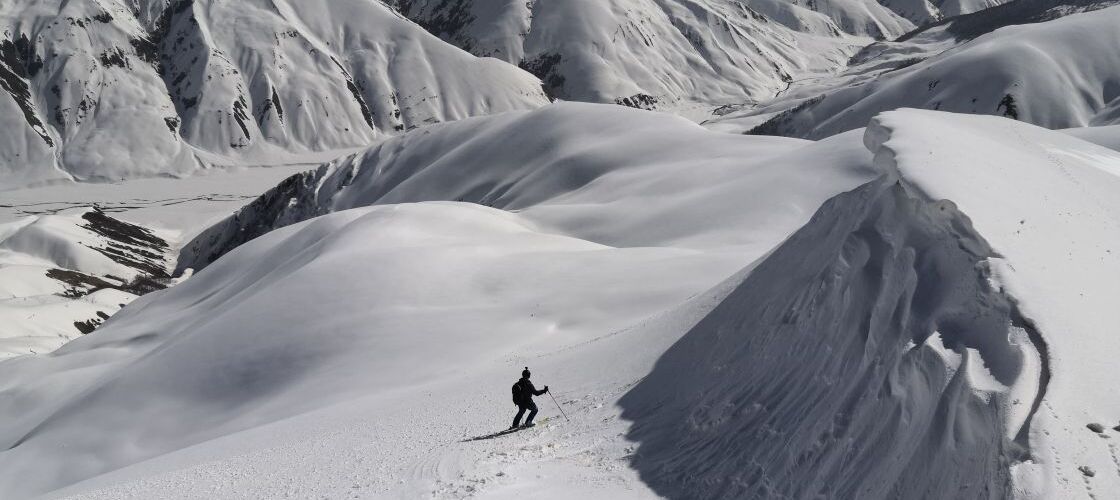 PROGRAM:
Day 1 – Arrival at the Tbilisi airport. Transport to hotel Babaneuris marani (approximately 1,5 hour from Tbilisi). Accommodation in hotel. Preparing for next days. Rent and service of equipment. Dinner, 1st night.
Day 2 to 4 – Three days of heliskiing on the slopes in Tusheti. Under normal snow conditions, we make 5-7 descents a day, which is usually at least 5,000 vertical meters. The average elevation of the slopes in Tusheti is about 1000 meters. Most of the slopes are oriented to the northeast, which is protected from the sun and the prevailing westerly winds. Most of the slopes are free, wide slopes without trees and other vegetation. The flight to the spots from the hotel takes approximately 12 minutes. HELI-SKI (price included 1,5 flight hour per day with the option of buying another for 12 EUR per person per minute of flight in the case of 4 client in helicopter). If you are interested, you can also purchase additional flight days at the price of 1 080 EUR / day / person (again contains 1,5 flight hour with the possibility of purchasing more time of helicopter flight - 12 EUR / minute/ person in the case of 4 clients in helicopter).
4th day afternoon is possible leave to Tbilisi and have night in hotel in city center. This opportunity is advantageous in case of early morning departures from airport. After arrival to hotel is organized traditional "ritual" dinner.
Day 5 - Transport to the airport and departure home.
Price includes:
3 days HELI-SKI - 1,5 flight hour each day with the possibility of purchasing another flight time - 12 EUR / 1 minute / person / in the case of 4 clients in helicopter
3x licenced guide, 1 guide is for four members group
All transports by our microbus
3x (4x) accommodation in hotel Babaneuris marani***;
1x accommodation hotel Gomi 19 in center of Tbilisi, in case of early morning departures from airport
3x meal per day, breakfast in buffet style, lunch boxes to helikopter, dinner in buffet style or Georgian dinner in our second restaurant
Water for drinking during whole day.
Rent of freeride equipment in our rental shop
Rent of complet avalanche equipment
Price does not include :
Fly tickets
Sport insurance, we recommend Alpenverein;
Alcoholic beverages
All what is not direct written in "price includes"
RECOMMENDED EQUIPMENT:
Freeride equipment or ski touring equipment - boots, skis, poles or freeride snowboard - it is not necessary, because it is possible to borrow free of charge within HELISKI;
Clothes for ski or snowboard;
Helmet - free to borrow, glasses;
ABS backpack, avalanche finder, probe, shovel - free of charge;
Thermos;
Personal hygiene;
Personal pharmacy.

ACCOMMODATION AND CATERING
ACCOMMODATION:
In resort hotel Babaneuris marani - 3 days (potentially 4 days);
Hotel is equipped with bar with fireplace, rental shop and service of ski, own wine shop and production of own beer.
In historical center of Tbilisi in hotel Gomi – one night before departure home
MEAL:
Breakfast in buffet style in our hotel restaurant
Dinner in buffet style with huge choices of salats, fruite and desserts. Or is possibility organize traditional Georgian dinner with tasting of wine from our wine shop or our own produced beer in our second restaurant.
Lunch boxes (take away) to te helikoptér. It contains sandwich, fruit and enough beverages
Water and nonalcoholic beverages are part of breakfast, alcoholic beverages is extra charge for each one person
In Tbilisi is organized final dinner, in case of enough time also breakfast before departure