Price for 1 person: 4 490, - Euro for at least 8 people in a group
Optimal number of participants: 8 or 12 persons
Elevation of slopes: 500-1200 meters for heli-ski, 400-800 m for cat-ski
Number of runs per day: heli-ski 1.5 flight hour (approx. 7-9 descents=5-8 vertical km) + possibility of additional payment, cat-ski is not limited
Optimal activity time: January, February, March.
The best program for everyone who loves powder. Depending on the weather, we combine the offer of heliski and catski at our two bases. It depends on your request and the weather. The basic offer includes two days of heliski and four days of catski. In case of good weather, however, it is possible to fly all week and pay extra for other days. In this package we will always prepare an ideal offer for you according to the current weather conditions. So don't hesitate and try the Powder hunters program.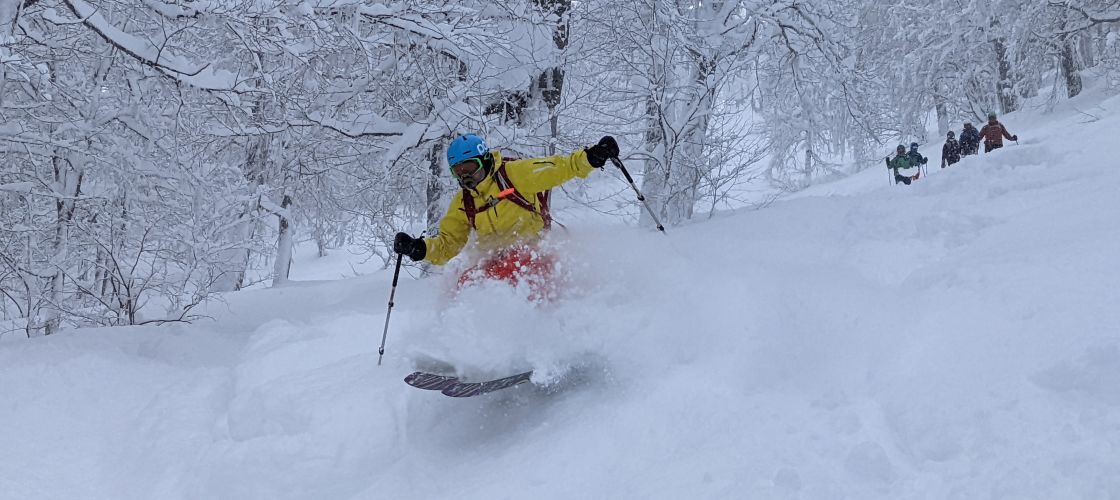 PROGRAM
Day 1 - departure from EU
Day 2 - arrival to Kutaisi or Tbilisi, airport pick up, transport by minibus and snowcat to base, accommodation, pick up of ski and avalanche equipment, safety training and CAT-SKI and HELI-SKI rules. If you are interested, we can arrange a flight from the airport to our Mountain Ski base with our helicopter for a small fee. Depending on your flight and taste, you can enjoy half a day of skiing ... just relax with half-day CATSKI or HELI-SKI :-)
Day 3 to 8 - 2 days HELI-SKI = paid 90 min per day to buy another in the price 12 Eur / minute flight + 4 days CATSKI - all day skiing with the help of a snowmobile without limitation of the number of descents or altitude meters. If the weather allows and you are interested in another heliski, it is possible to buy additional flight days at a price of 1080,- EUR / 1 day / person.
Last day departure from Ambrolauri or Bakhmaro base to minibus and subsequent transport to Kutaisi or Tbilisi, departure back to Europe or accommodation in a hotel and overnight accommodation.
Day 9 - Departure back home for a flight that is up to this day
We will arrange all flights for you!
PRICE IS INCLUDING:
4 days CATSKI without limiting the number of descents or altitude meters (everything is limited only by your physical condition and length of day!);
2 days HELISKI - every day 1.5 flight hours with the option to buy another one in the price of 12 Eur / minute fligh;
6 x services of a certified guide, or two, depending on the size of the group, in each group has its own personal guide;
All Transportation by Minibus from Mountain Ski LLC;
6 x accommodation at Mountain Ski Base Bakhmaro in houses in double rooms with shared bathroom for two rooms or in a hotel in Ambrolauri in double rooms with private bathroom and toilet. (the number of days at each base depends on the selected program and weather);
Possible accommodation in Tbilisi or Kutaisi - 1 night (breakfast, dinner);
3 x daily meals, buffet breakfast, packed lunches for hikes or hikes or classic lunch at the base, warm dinner of classic Georgian cuisine, soft drinks included;
Food during transport to and from the airport;
Water during transport;
Free rental of freeride skis or snowboards with belts or snowshoes, telescopic poles;
Free rental of avalanche equipment - ABS backpack, avalanche search engine, probe, shovel
PRICE DOES NOT INCLUDE:
Ticket;
Possible transports by helicopter;
Insurance of outdoor activities - we recommend Alpenverein;
Consumption of alcoholic drinks.
RECOMMENDED EQUIPMENT:
Freeride equipment or ski mountaineering equipment - skis, poles, or freeride snowboard - is not necessary, as it is possible to rent them free of charge within CATSKI and HELISKI;
Freeride or skialp shoes;
Clothes for ski or snowboard;
Helmet - free to borrow, glasses;
ABS backpack, avalanche finder, probe, shovel - available for free
Thermos;
Personal hygiene;
Personal pharmacy.
ACCOMMODATION AND CATERING
ACCOMMODATION:
In Bakhmaro you will be accommodated in small wooden houses in double rooms;
In Ambrolauri in a hotel in double rooms with bathroom
In the case of a return flight until Sunday, you will be provided with bed and breakfast at the hotel in Tbilisi or Kutaisi.
CATERING:
Full board is available throughout your stay in BaKhmaro or Ambrolauri;
Breakfast is buffet style;
Lunch is in the form of a packet for a snowmobile or helicopter - lunch on a chop consists of broth, bread, roasted meat, salami, cheese, vegetables, fruit and hot water for tea or coffee, while bottled water is also available;
Dinners are several-course and cook mostly renowned Georgian cuisine such as: Khinkali, Khachapuri, Shashlik, Chakapuli, Kebab, etc., of course vegetables and salads(…);
Soft drinks are included in the menu… alcohol of all kinds is served at the bar (…);
During transports, refreshments are prepared in well-tested restaurants;
Before departure a final dinner is prepared in Tbilisi or Kutaisi, or breakfast if you leave the next day.