Price for one person: 690 EUR without guide, 1290 EUR with guide
Period (number of days): 8 days
Ideal tim to participate on trip: March, April, May
Short introduction: Ascent to five-thousandth peak Kazbeg represents serious climbing hike and in combination of possibillity of ski alpinism downhill to the Gergeti also fantastic ski experiance. Due to hight of the mountin is important calculate with time for aclimatization, which is in this type of ascenties to this hights necessary. Kazbeg is almost ideal mountin for skitouring, slopes are not steep to much, but terrain is in upper part glacial, due to this is necessary to climb up and be strapped to a rope, accompanied by an experienced guide, which with terrains knowladges is abble to eliminate the risk of falling into the crack.
Destination: Caucasus - Kazbegi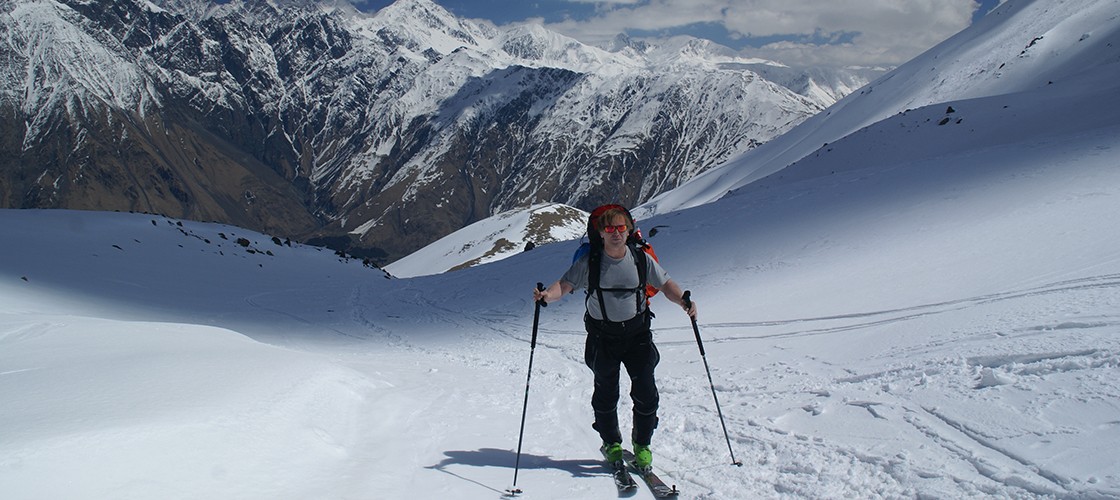 Price includes:
Pickuping of group at Tbilisi airport (or Kutaisi) and transport back to airport
all other transports in accordance with the program
Accommodation:
- Tbilisi (1 night) in *** hotel
- Kazbegi (2-3 nights) in **** hotel Ethnograph – during acclimatization and after comeback from ascent
- Bethlemi hut (3-4 nights) in former meteo station
Halfboard, breakfast and hot dinners in hotels – excellent quality, large amount
Meal and eating during ascent to the mountain is organized like fullboard in new opened restaurant in Bethlemi hut (lunch direct in restaurant or lunch boxes for ascent)
Price does not include:
Internationl flight tickets from/to Tbilisi (Kutaisi)
Health and travel insurance
All services which ate not written in program
Individual transports
Rent of equipment – all needed equipment for ascent is possible rent in hotel Ethnograph rental shop
Costs of rescue
Beverages and meal, which are not including in price of group menu and during ascent to the mountin
Potential ski pass to resort of Gudauri- 18 USD/person/day
Potential load bearer or helicopter for transport of equipment from Gergeti to Bethlemi hut
1-2 licenced guide for group depending of number of members (1 guide max. for four person)
Detailed itinerary of package tour:
Day 1 – Arrival at Tbilisi (Kutaisi) airport. Transport to the hotel in Kazbegi, 1stnight.
Day 2 – After breakfast acclimatization ascent in area of ski resort of Gudauri, potencional freeride in resort with using chairlifts. Possibility of ascent to the hight of 3300 meters. Dinner,overnight stay in hotel.
Day 3 – After breakfast (early morning) transport with car from Kazbegi to the starting place of ascent. Climbing on the ski from the end of village Gergeti to the Bethlemi hut (3680 m).In this place accomodation,rest and night in sleeping bags in simple rooms of former meteo station.Meal, dinner and breakfast is possible to buy direct in new restauration in the cottage. Cottage is not heating. Heating is just in room for local guides and in kitchenette.
Day 4 – Acclimatization ascent abov the meteo station to the chapel, afternoon possibility is to cross the glacier Gergeti and downhill back. to the cottage. Dinner, overnight stay.
Day 5 – Acclimatization ascent to the platform in height 4400 meters. Return to the meteo station. Rest, dinner, overnight stay.
Day 6 – Early morning breakfast (approx. 5 AM) at 6 AM start of ascent to the top of Kazbeg. After ascent return to the meteo station, rest, downhill to the Kazbegi, departure back to the hotel Ethnograph.
Day 7 – Reserve day in case of bad weather, potential reserve day for those who are slower in acclimatization on height. Departure to Tbilisi (Kutaisi) to the hotel, overnight stay.
Day 8 – Transport to the airport, departure home

Reccommended equipment:
Skitouring equipment - shoe, ski, skins, ski poles, - possible to rent in our Kazbegi rental shop
Rope, sit harness, carabiners, sling and other equipment for ascent on glacier - possible rent in our rental shop in Kazbegi
Clothes right for skimountaineering of ascent with splitsnowboard
Climbing crampons, ice axe - possible to rent in our Kazbegi rental shop
Glasses, down jacket
Avalanche locator, probe, shovel – possible to rent
Thermo flask
Sleeping bag, Personal hygiene necessary
Personal first-aid kit
Insurance

Transport during the tour and transportation of luggage:
By plane: international flights to/from Tbilisi(or Kutaisi) - ARE NOT INCLUDED IN THE PRICE OF TRIP!
By car: Journey from airport in Kazbegi and back, all possible transports to each climb in the region.

Additional services:
We provide the option of hire ski mountaineering skis and other equipment required for the climb to the Kazbegi
We provide the option of avalanche search engines, probes and shovels
We arrange suitable insurance for this kind of sports activities (Alpenverein)